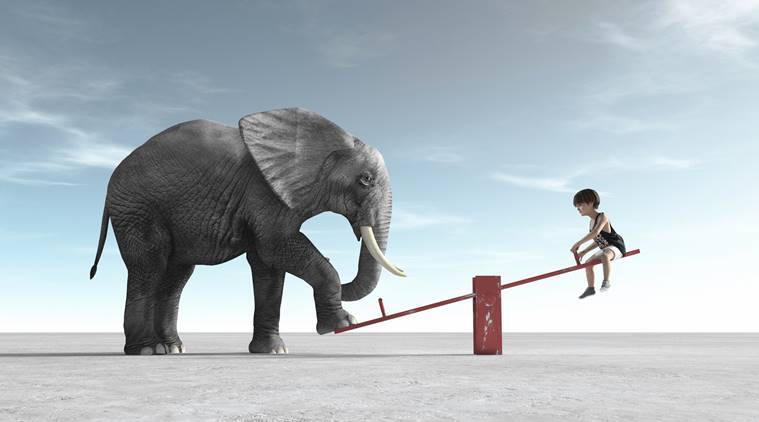 In this post we compare a number of link vendors that come highly recommended by Search Logistics' reviews post, and we added TheHoth for fun!
The selected candidates today are:
TheHoth
LinksThatRank
SERPTrust
GetMeLinks
Loganix
Here are the results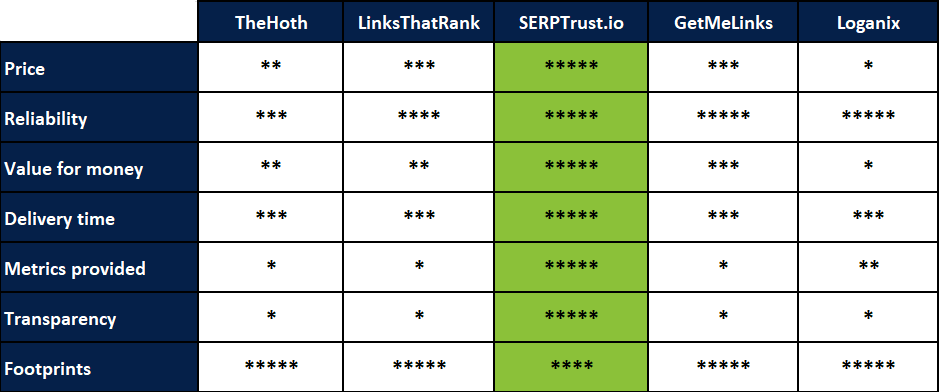 I wish I could've added Authority Builders but they made it rather hard to find prices.
In our previous comparison in 2020, Authority Builders came out as 2.27 times more expensive than us, and several clients told us this year that it's still pretty spot on.
Explanation of factors:
Price – 1-star is most expensive, 5-stars is most affordable.
Reliability – we haven't heard any rumors of vendors not providing links that were paid for, other than that we looked at reviews to determine our ratings. We scored TheHoth extra low due to the vast amount of negative reviews they received.
Value for Money – Loganix ranks worst here due to their high-priced links, the same types that others sell for much less while SERPTrust beats the crown. LinksThatRank doesn't score very well here either because they are one of the least transparent vendors.
Delivery Time – most vendors deliver in 3-4 weeks, at SERPTrust we just opened a can of writers and aim to lower our delivery time from 3-4 weeks to 1-2 weeks within the next two weeks.
Metrics provided – At SERPTrust we offer a very wide range of services, with our competitors you can only select the DR and in the case of Loganix you can select the number of organic visitors per month.
Transparency – SERPTrust is the only one that reveals the sites before purchase, all the others provide you with the live link after the service has been delivered.
Footprints – We can not claim that any of those vendors work footprint free, personally we do have sites with footprints in our database and indicate those sites as such, hence I gave ourselves four-stars only. LinksThatRank makes a point of it that they use a 23-point checklist but they haven't publicized that but even if you'd still have to take them on their word for it when everything remains hidden.
Exact pricing compared
Below we compared some exact pricing, this data was acquired on the 21st of April 2023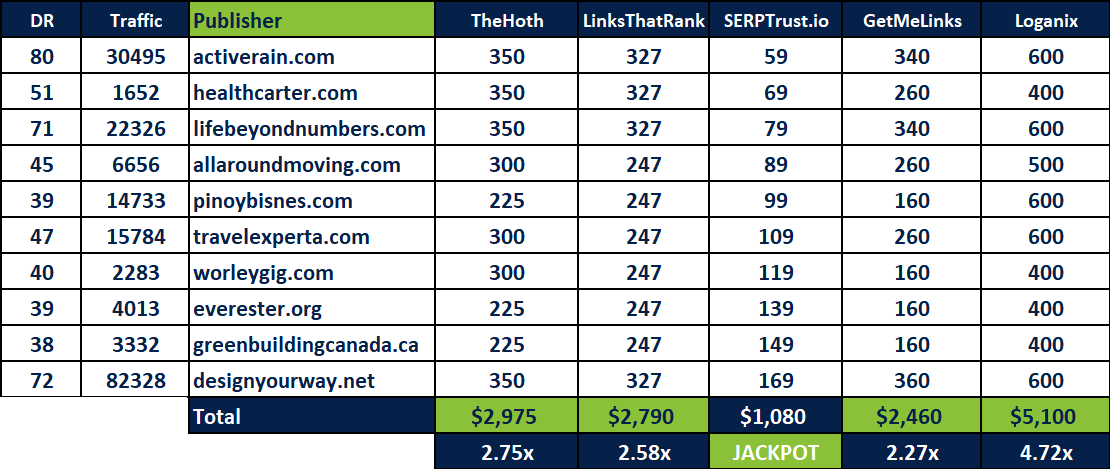 Quality factors
It's very easy to talk about quality such as a 23-point checklist when you don't go into any details.
It's also very easy to spend thousands of dollars on a professional dashboard that makes order processing a breeze.
But what does the client buy for all this? Nada, nothing, zilch.
Most of our clients track their orders not just on our platform but in a Google spreadsheet or Excel file or whichever other tools they use, it's not really that important is it? Especially if it means paying at least twice as much.
Overall conclusion
It becomes clear that there are three type of vendors:
SERPTrust (fair pricing based on how much the sites charges).
TheHoth, LinksThatRank, GetMeLinks (pay double and not a clue what you get).
Loganix (why not charge almost 5 times if you can get it…)
We are the only vendor that shows the sites before you purchase, either by viewing the homepage screenshot so you can find the site yourself.
If you don't want to dig around to find sites you can choose to deposit $1,000 and all the sites will automatically be revealed (the platform is coded in such way that it automatically monitors you deposit history).
The reason why we are much more affordable is that we work with flat rates according to the following formula:
Site fee + $20 for content + $4 for Paypal + $30 margin = starting from $59.
Content upgrade:
We just wrote up another post comparing us against guest post vendors that maintain their own databases in a similar fashion as SERPTrust, you can read more about that here: Authority Builders vs NOBS Marketplace vs SERPTrust.
Time to get started!
All you have to do to see the actual sites is register here, and browse our database.
Below is a screenshot of our database so you can see what to expect.