The Shortest All-In-One Affilliate Marketing & SEO Guide
Are you dabbling about starting at affiliate marketing?
I get you, there is a lot of noise out there and stories that contradict each other, not to mention the countless people that have been hit by Google updates so it can be a little bit frightening to spend your hard earned money on an affiliate site.
However, when doing things right it can be extremely lucrative and before you know it you can say goodbye to your day job!
Be realistic though, that will probably still take a good year or two.
Regardless, in this guide you are going to learn a shitload of things that others charge thousands of dollars for so let's kick it off.
Starting with Niche Selection
For the record, we're talking about Amazon affiliate marketing which makes things a lot easier.
There are so many niches out there from the usually more competitive electronics to the much less competitive pet accessories.
What you want to do is pick a niche that's not too narrow nor too broad.
Pets is nice enough as most products aren't too expensive and it's quite defined so in this case you can just go for it.
If you pick electronics you want to go a bit more specific, eg either OR not AND:
Computer hardware
Software in a certain industry
Audio
Video
Mobile
You name it, pick one and stick with it.
Keyword Research is Your Maker or Breaker
Pay good attention here because when you get this wrong you're probably stuck at your job for a long time to come!
Even experts like myself ahem… make this mistake, thinking we'll just crack that nut but the reality is often different.
It just takes too many resources and too much time to break into what we call 'medium competitive niches'.
Here some keyword examples of medium competitive niches?
We're going to stick to the two niches that we previously used as an example:
best fish finder, KD26 (not too terrible to be honest)
dog trimmer, KD28
best microphone, KD40
laptop under $1000, KD35
These keywords don't even have a ton of volume, well some of them plenty but simply going longtail with a certain keyword is no guarantee for sucess.
Find the Hidden Gold
What you want to find is the hidden gold as they say, root or main keywords with a KD (keyword difficulty) score of below 10.
Finding such keywords ain't always easy but there is a systemized approach that you can use and it goes like:
Search in Google for 'best fish finder'
Use a tool like Linkclump to grab the first 30 results (you can set the number of results it shows per page in Google, DYOR).
Trim the URL's to their root using this tool.
Now go to the batch analyzer in Ahrefs and load them all.
Sort the results on DR (Ahrefs domain rating, a strength indicator)
Save all the sites with a DR < 15 or < 10 or < 20 depending on how much choice you have.
Now you can right click on the keywords column, on the numbers and open each in a new tab.
I stop here for a second.
Applying filters on Ahrefs keywords page:
Position <= 20
Volume > 100
KD <= 10
The list of 2500+ or so keywords shrank to only 65 keywords, that's why we apply this to at least a handful of sites and preferably a dozen sites.
Yes it takes a bit of time but this will define your success in the future so it's worth it!
Now export the keywords and combine them from all sites in one sheet, which I just did for this post.
So now I have 1753 keywords that 5 sites rank for lower than position 20, more than 100 searches/month per keyword and a keyword difficulty of less than 10.
I'll remove the duplicates now and we have 1100+ unique keywords left.
Let's Filter on "Best" Keywords to Make Money
Easy enough, we just sort from A to Z in Excel and we have them all together.
I copy those results to another tab for now and remove the ones that are to closely related and I keep the ones with most search volume.
What you want to make sure of is to pick the most competitive keywords here.
The reason is that we'll check the competition later again and we want root keywords with low competition only to increase our chance of success.
So when you see something like "best budget spinner rod" you remove the word "budget" from it and leave it in your list, same for 'best casting rod under 100' you shorten that to 'best casting rod'.
You also remove the non-commercial queries like best fishing spots in Ohio, products is what we're after.
So I'm left with 76 keywords of which approx 50 are truly unique I'd say, that's a decent amount to get started.
This time we go back to the keyword explorer and load them all in bulk, export the results and trash all that has a higher KD (keyword difficulty) then 10.
Best fishing rod didn't make it as KD30, best spinning rod with KD13 I'll take and I'm left with 76 keywords.

It's all closely related to fishing as you can see as niche sites dominate the results again these days while not going too narrow.
Okay fishing doesn't have to do much with pets when you think of it but it still makes a good example.
And look at that search volume, that's very decent and you can't really shorten those phrases by a whole lot, some I left in intentionally as we do have to try our luck occasionally.
Let's Get Some Content Written
We have 75 keywords, that if we trim it a bit more there are like at least 30 very unique ones so we have enough for a few dozen blog posts.
What you want to do is aim for let's say 3000+ words/post, a simple layout would be:
Intro
Type of product H2 sub heading
Pick 4 products each with a H3 sub heading and review each in say 300 words
Other type of product H2 sub heading
Pick 4 products again, each with H3 sub heading and 300 words
A buyers guide
A frequently asked questions section
A conclusion
There you have 3000 words as those 8 products already make up for 2400 words!
Make sure to include some pros and cons, and some nice images and you're done.
Rinse, repeat 30 times and you have a solid foundation with a site that counts 90,000 words!
Optimizing the Content
Sign-up for SurferSEO, simple as that, it's a great tool and thank me later!
Other Pages of Content
You also want to build some other pages like a decent contact & about page, a privacy disclaimer and you want to put an affiliate disclosure in your footer or sidebar and near the top of the post.
Just look at these results: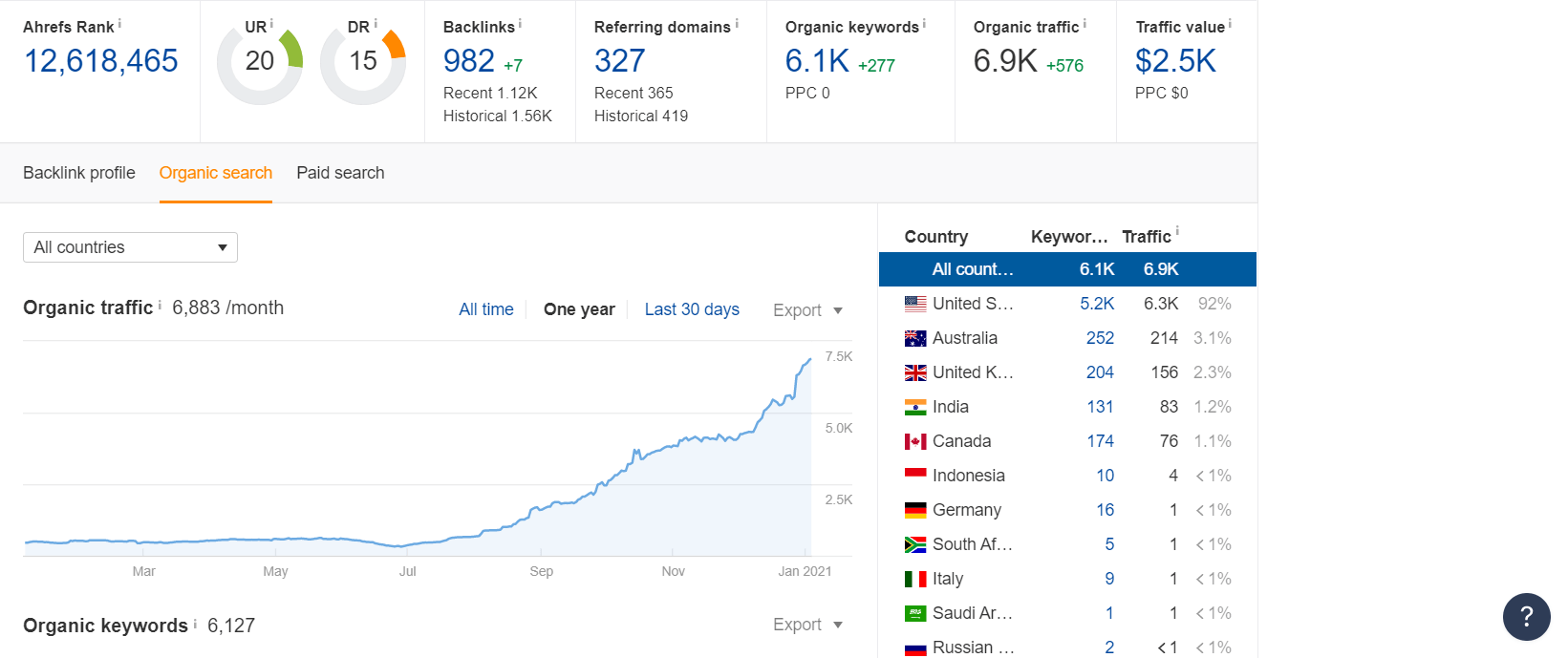 Time to Build Links
You don't have to wait till all 30 posts are up as writers aren't always the fastest.
If you're short on budget you can write yourself, go wild and aim for one posts a day and you're ready in a month.
Because we've picked easy to rank for keywords and optimized our content to perfection you will soon start ranking and make your first few bucks from Amazon but without backlinks you'll need tons more content to really make a difference.
My favorite links are:
Guest Posts
We offer them ourselves starting at $70/post, content included so you don't have to worry about that.
Link Insertions
These start at only $40/link, make sure to pick the most relevant posts and go ahead and order.
Social Links
Just set up a page on Facebook, create an account at Twitter, maybe you want to do something with Pinterest, go for it.
Foundation Links
Personally I don't even bother with these, think of web2.0's, bookmarks, profiles, web directories, press releases, all nice and well but it doesn't really make much of a change if you ask me.
Free Relevant Links
What I can and would recommend is to leave some comments and do some forum postings.
How Many LInks Do I Need?
This is always a bit hard to say but aim for say 50 links in the next six months and see where you're heading.
At that point you should be making money to be able to afford more links.
Website Optimization
You want a website that runs fast, GeneratePress is a great lightweight theme!

Next you want to install a number of plugins to get a great score in Google Pagespeed Insights:
Only the last one is a paid one, the rest is all free, instead of using WP Rocket you can go also go for W3 Total Cache.
How Much is All of this Going to Cost?
Assuming you outsource the content writing and the link building, but you optimize, proofread and publish the content yourself here a realistic break-down:
Content: 30 posts * 3000 words = 90,000 words * 2.4 cents/word (Textbroker) = $2,160 or *4 cents/word (Writer Access) = $3600. At 4 cents/word you will be able to find plenty of your writers yourself as well at places like Upwork. Just write the Contact and About page yourself or add a few dollars.
Guest posts: 30 guest posts * average purchase price of $120/post = $3600
Link insertions: 20 insertions * average purchase price of $60 = $1200
Forum posts, 10 posts go for approx $100 (I forgot the name of that vendor again…)
Total costs: $7000-$8500 depending on the writer you choose
Add a few hundred more for perhaps a paid theme/plugin, hosting, domain name registration so say $7500-$9000.
Obviously you can save a ton of money if you write the content yourself and/or reach out yourself though it looks easier than it is and I don't just say that to try to sell you some links. It's the harsh true as site owners get spammed daily with hundreds of requests.
Return on Investment
At the start of this post I said "be realistic, you can probably leave your job in two years".
Don't set your expectations to high, especially in the beginning.
Yes, the first bucks will start rolling in rather soon after your site is live.
Yes, the income will grow quite steadily and rapidly once you add links.
But things do take time, Google is not a print-money-on-demand type of thing.
If you continue building links after the first six months at the same pace you can realistically make $300-500/month from your website.
Site flipping evaluators put your site at a value of $9,000-15,000 by then.
In other words the average person would break-even after a year if he were to sell his/her site which is great in only a year time!
Probably you don't want to sell before your site is doing $1k+/month for a decent pay day or when you have at least two sites going.
This is not a get-rich-quick scheme and it does require some investment.
In Conclusion
It's probably easier to rank these days than it was in the past as this time you are well prepared.
Ranking comes down to a few things only:
Well optimized content
A fast-loading site
Relevant backlinks
If you stick to these 3 core principals you are already winning.
If you decide to take sideways / shortcuts you'll end up losing!
Questions? Ask them in our Facebook group.