Websites with real traffic at your fingertips!
We've handpicked 1000 websites for you while rejecting 50k+ others
While still maintaining the
lowest prices

in the industry REGISTER TO VIEW 1000 PUBLISHING OPPORTUNITIES

(Below listings are for illustration purposes only, scroll down or register to see the real database)

What we have to offer:
Guest posts, and as you probably know guest posts are the most effective and safest links when it comes to ranking higher in Google.
We don't just offer any type of guest posts though.
Day in, day out I hunt for the best opportunities and negotiate the best price so I can offer it to you at an extremely affordable rate.
It's not for nothing that we receive reviews like the one below (which makes me think it's time to increase our pricing):
Who am I and why don't I increase my pricing?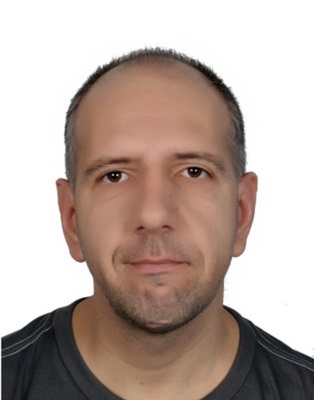 My name is Dennis Hamming and I've been around for a while.
All the way back in 2012 I started out at the Warrior Forum like most of you.
Perhaps you remember that all the public blog networks went down at that time?
Instead of whining about it or scared to take initiative I launched my own PBN
Learning from the mistakes of others and I was totally crushing it.
Within six months I became one of the top sellers and many know me from back then.
At some point PBN's weren't all that effective anymore so I moved on
I took a two year break and focused on Amazon affiliate marketing among other things.
Fast forward two years ago. I saw what was happening in the guest post niche.
People sold guest posts on sites everyone has access to or even worse on PBN's.
On the other hand I saw people selling guest posts with >300% markups!!!
There was very little in between so I saw a hole in the market and jumped in.
So it doesn't make sense to increase my pricing when that's the gap I'm filling here.
Why guest posts?
Backlinks are the most important ranking factor in Google, no one can deny that!
Sure content is king but that speaks for itself, we're not back in 2012 where you could rank an empty page
More importantly, contextual editorial links are the ones you want to acquire.
Guest posts are exactly that.
Especially when they aren't marked as guest posts and we pay close attention to that.
Why SerpTrust for your guest post needs?
1) Eight years of experience in practically any niche.
2) No hidden surprises, we reveal the sites upfront.
3) Excellent track record, not a single negative review.
4) Many of the most successful online marketers hire us.
5) No competition is too tough for us to crack.
6) Outstanding results, over and over again.
7) Lowest price guarantee, never pay too much again.
How long does it take for these links to kick in?
Usually it takes 4-8 weeks after the link goes live.
It takes us approx 3-4 weeks to deliver so altogether within 2-3 months from now.
Why does it take so long to deliver?
We need to write the guest post and offer it to the site owner.
And not every site owner is glued to his computer 24/7.
Let's talk about your return on investment (ROI)
Do you have a way to measure it? If not I strongly suggest you focus on that first.
Calculating your ROI from guest posts is quite easy though.
Let's say your site currently receives 1000 organic visitors/month and you invest $1000 on guest posts.
It's not unrealistic to think that your traffic would double in the next three months.
So if you are doing $5k in revenue that could easily be doubled or sometimes even tripled as well.
But let's be modest, even if your revenue only grows by 50% that's an extra $2500/month revenue!
And those 2500 dollars are there to stay for potentially years to come.
I hope this simple example shows you the massive potential of guest posting for backlinks.
That having been said!
Here are some reviews that we received in the past 12 months.
Good for 5 out of 5 stars at our SerpTrust Facebook page.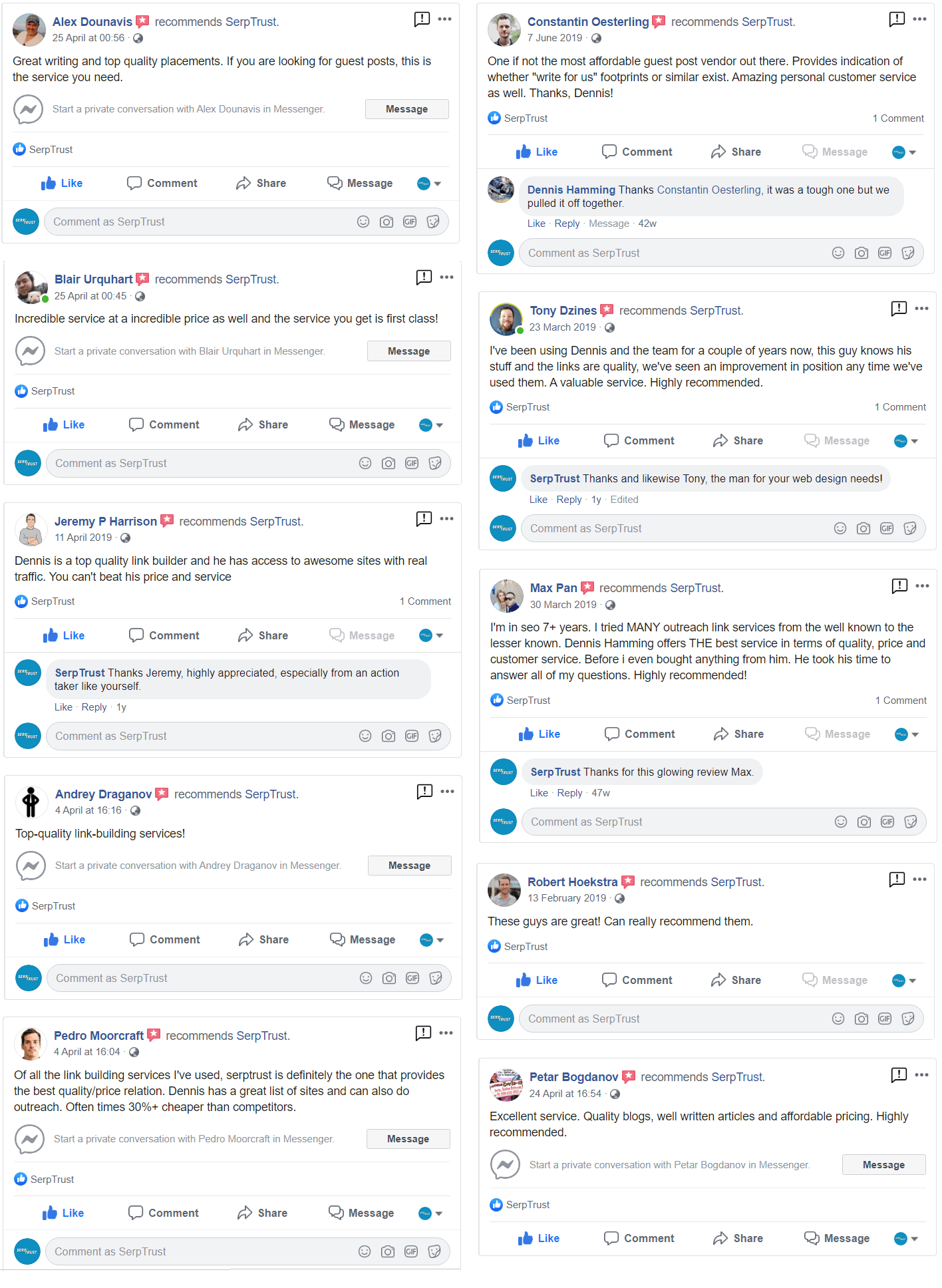 Some ranking graphs from above clients:
With all the talk about traffic boners, I think we've got you covered!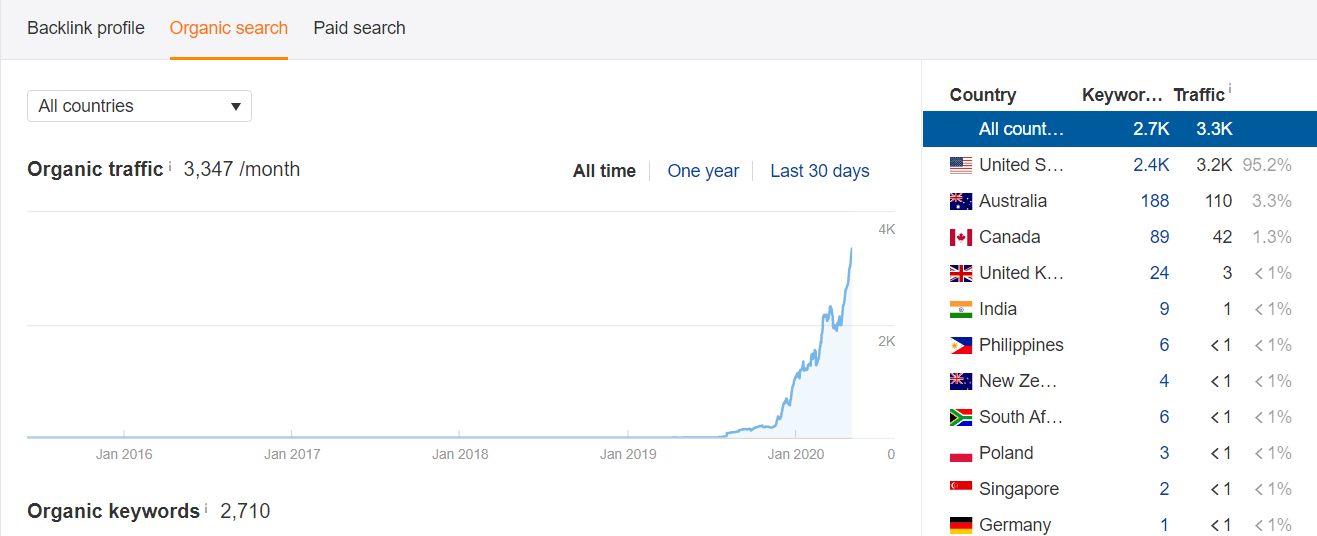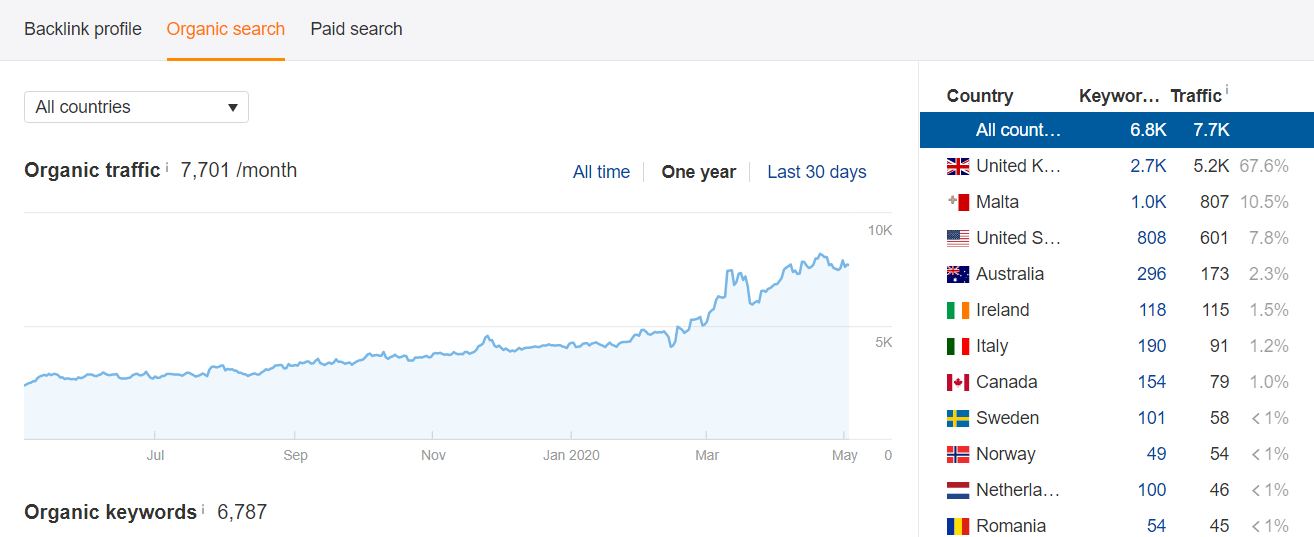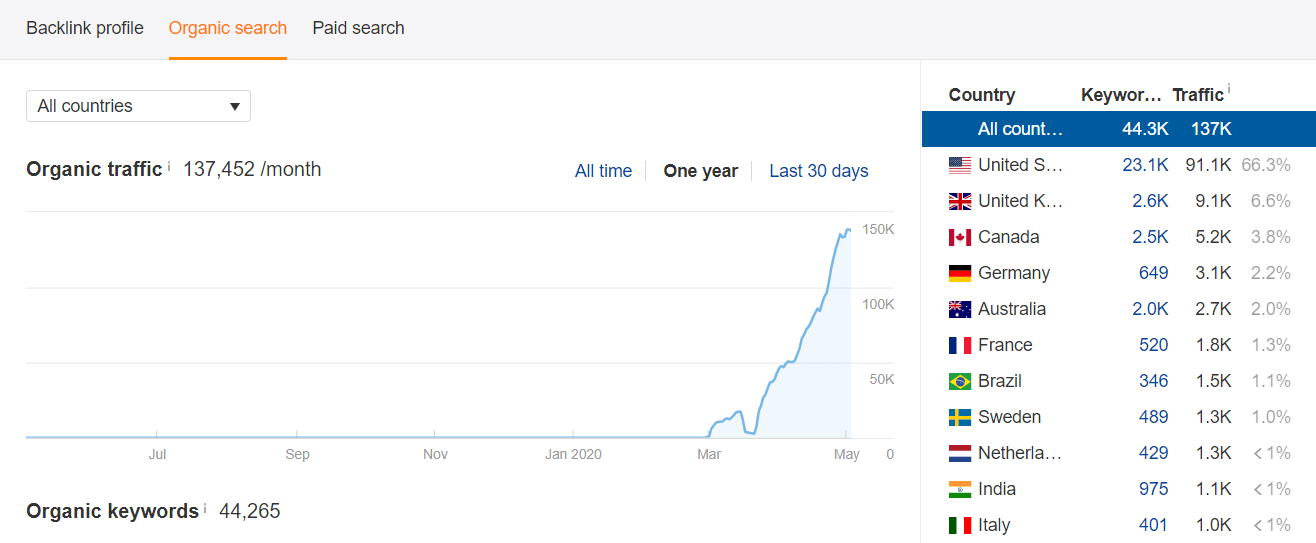 How easy is it to order?
Quite easy, register here and you will get access to our database.
The system automatically logs you in, no need to verify your email address first.
Now you can browse our database based on niche, price or a wide variety of metrics.
Although we reveal a lot of websites we don't reveal them all at once.
Occasionally the site URL will be replaced by asterisks in which case you can request the site by email.
You can do this by simply clicking on the "Request website" link on the details page.
While you are here, have a look around and play with the filters to select your niche and price!
But let me explain the different metrics first:
DA - Domain Authority as per Moz
PA - Page Authority as per Moz
Moz - Moz Trust, another metric by Moz
TF - Trust Flow as per MajesticSEO
CF - Citation flow as per MajesticSEO
DR - Domain Rating as per Ahrefs
RD - Number of referring domains as per Ahrefs
Traffic - the number of visitors per month as per Ahrefs
Keywords - the number of keywords the site ranks for as per Ahrefs
Rank - the site's rank in the top 30 million as per Ahrefs
Green border - we recently added this site to our database
Enjoy browsing & hope to see you inside!