Case Study: From 0 to 60k+ visitors/mo in Only 6 Months!
Have you ever wondered how people get results like these in only six months?
Today we're going to take a close look into what it takes to get there as this is one of my largest clients and this case study is more the rule than the exception for this particular client so keep on reading…
Quite an impressive graph don't you think?
When I earlier talked about from 0 to 100k visitors/month I had no access to the actual data so it was a rough guess.
In fact it is a little over 60k visitors per month, still impressive in such a short amount of time of course.
The best part is, almost every link that points at above site is available for sale at our site SerpTrust.io!
So let's dive into some details
Step 1: An expired domain
You'd be surprised to know that the domain he used is registered less than 2 years ago and only attracted a dozen links before it hit the auction.
It was not so much the domain power, or the age, it was more the name that was extremely suitable for his purpose.
Needless to say, the age and the links are only a very small piece of the puzzle.
Step 2: A few links per week
We started to build links about nine months ago, before that the domain was dormant for three months as it was reregistered almost exactly one year from now.
We started off really slowly, with less than a dozen private blog network links per month and that moved the needle from literally zero to a few hundred visitors in the first few months.
After that, we became a lot more aggressive!
Step 3: A few DOZEN links per week
As soon as some results came in my client decided to pick up the pace.
The orders just kept on coming and coming and I was like damn, what is he up to?
But he knew exactly what he was up too as he repeated this trick a couple of times before!
Before we break down the links let's throw in another screenshot first, this time from SEMrush to confirm the growth.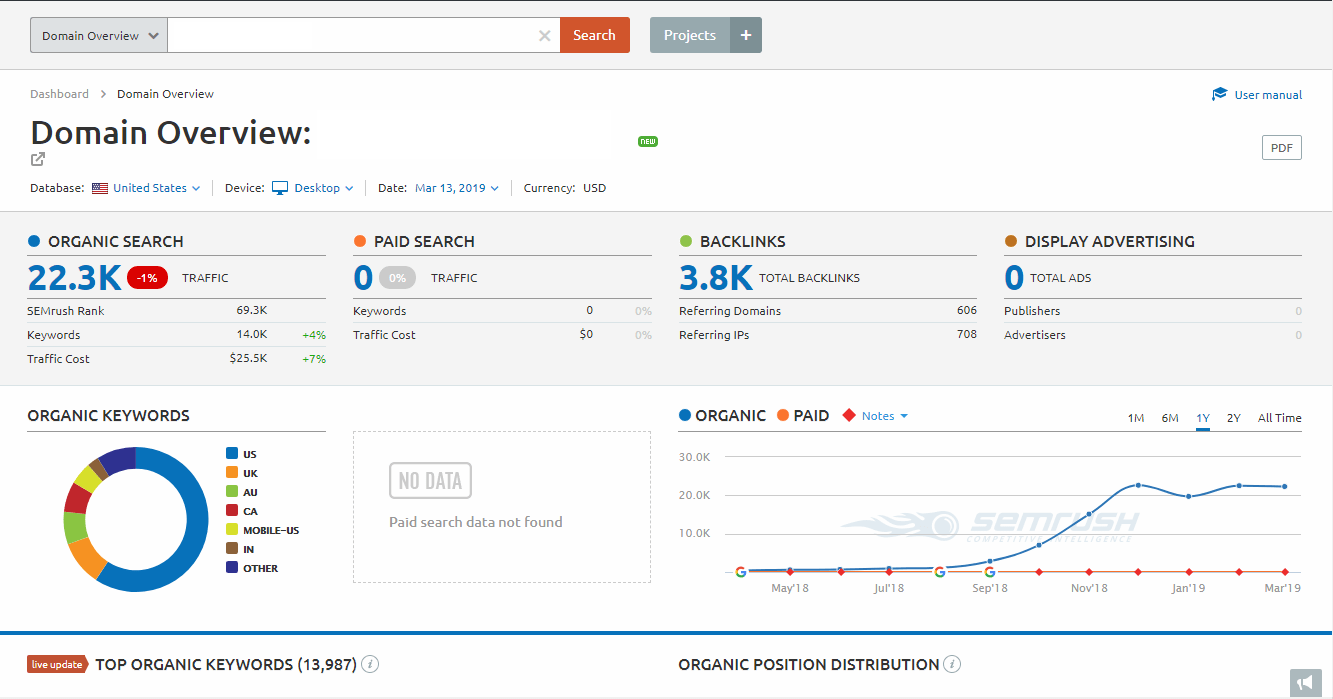 SEMrush is notorious for not showing even half the traffic a site really receives but that is nothing new.
I also need to add that SEMrush is only showing the traffic the site receives from the US while the site and its products are targetting users worldwide.
While we are at it, why not throw in a screenshot from Ahrefs as well, I despise case studies with zero details.
The only thing I obviously can't reveal is the domain name due to a non-signed NDA, we just work in good faith.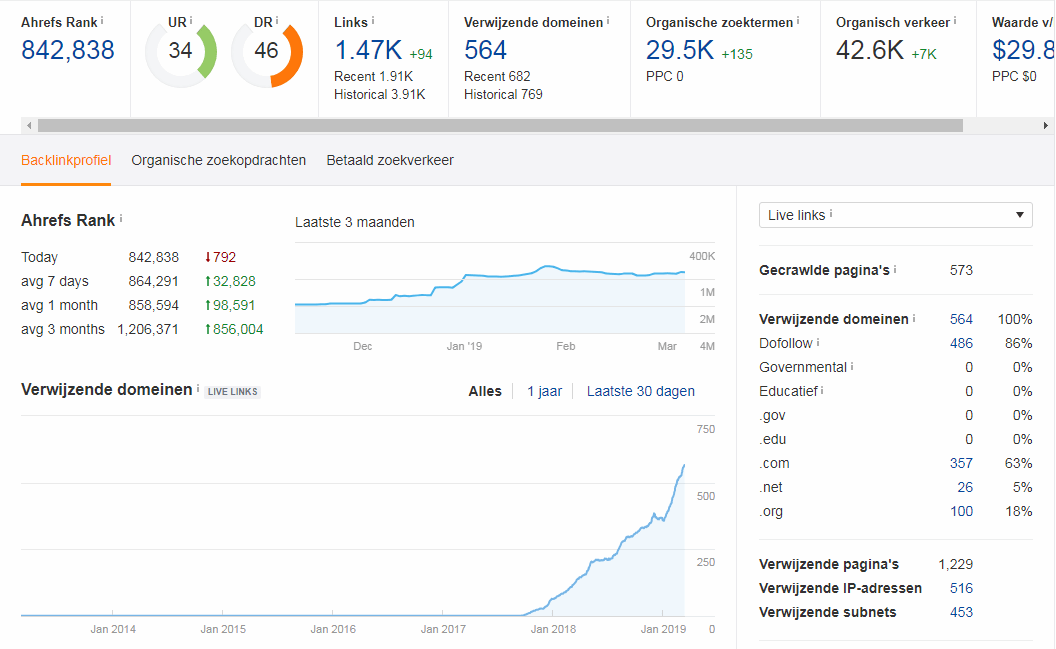 The reason I like to show this screenshot is that it shows a clear graph of the massive link building we've done.
All that in such a short amount of time, yep that steep graph at the bottom of the screenshot.
Ahrefs is a little more accurate in terms of determining it's traffic as you can see it shows 42.6k visitors/mo (organisch verkeer), that's Dutch btw.
As if we haven't shown enough screenshots already I'm going to give you two more of them.
Here is what Majestic shows: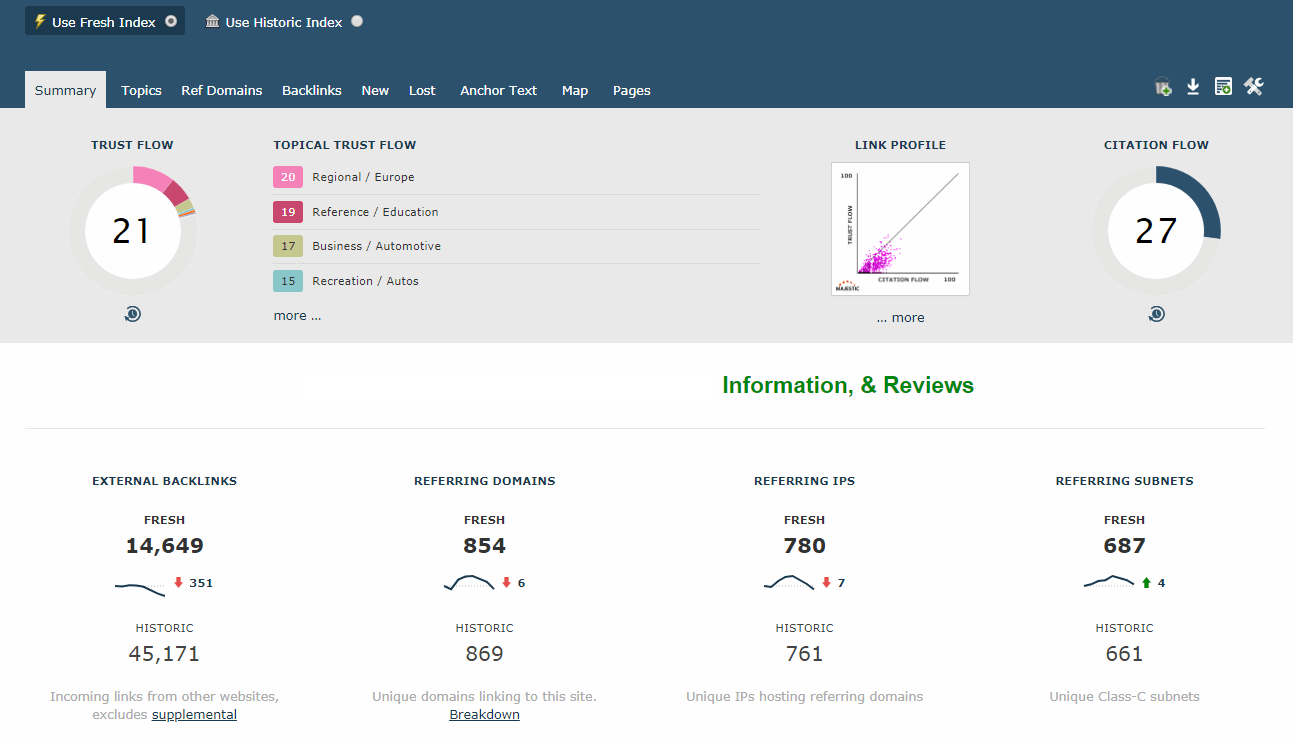 The interesting part is that the topical Trust Flow isn't even all that relevant as this site is in the health niche.
Remember this medic update from August 2018?
I guess we started right after that as this site has never been affected by it or any other update for that matter.
Now let's see what SimilarWeb has to say about this website.
I don't have a paid account with Similar Web as I think it's highly inaccurate so I just show you the basic screenshot:
Quite an impressive Country Rank, almost in the top 100k, and an estimated 150k visitors/month, that's why I don't like to use SimilarWeb, it always grossly exaggerates things, while SEMrush underrates things and Ahrefs is actually quite close to the truth.
I suppose when you add it all up:
SEMrush 22k
Ahrefs 43k
SimilarWeb 150k
Total: 215 divided by three = 70k visitors/month, not so far from the truth actually!
It's a shame Majestic SEO doesn't provide traffic estimates as I'm quite a fan of them.
Time for a break-down of backlinks
I've bothered you long enough with screenshots now that all show the same thing, purely to show that this is not a made-up case study.
As said, we started with a dozen links per month and scaled fast to a hundred links a month.
And not just any links!
300+ Private Blog Network links from our own network that's been going strong for 7 years now!
100+ Guest posts from our very own guest post database.
100+ Link insertions/niche edits that you can find here.
And a handful of redirects from auction domains with just a few dozen links each.
Sorry for plugging my own services here, but that's what is responsible for at least 80% of the success of this site!
Personally, I don't recommend to send 300+ PBN links directly to a site anymore, we do have a premium blog network of 80+ sites and those are fine in combination with guest posts and link insertions and can be ordered when you're registered and logged in.
Links from our basic private blog network can't be ordered as a stand-alone service anymore, we only use them to boost guest posts and link insertion pages so it's only available as an add-on if you want to give your links a little more power.
If you have any specific questions about this case study you can ask them on our Facebook page, or join our group here.
I won't reveal the site, nor the keywords, nor the exact niche of course but if there's something I forgot to mention feel free to ask!
You can also connect with me on LinkedIn if that's what you prefer or fill out our contact page to get in touch!
I'm always happy to help guide you to similar success, and who knows you are our next case study!