When I started selling guest posts the demand for custom outreach soon arrived.
But there are a lot of tools that can assist with that, just to name a few:
Pitchbox (if your budget allows for it).
Ninja Outreach (a much cheaper alternative).
Dibz (I tested them, wasn't too happy).
Hunter.io (an almost all-round solution).
There are many more of course and personally I tried all kind of combinations as outreach comes down to 3 main steps:
Collecting email addresses.
Verifying email addresses
Emailing your prospects
A couple more steps like finding prospects, getting content written, following up and so forth.
Hunter.io takes care of the three listed steps which makes it pretty much an all-in-one tool so we will mention them numerous times throughout this guide.
But let's start from scratch.
Step 1: Finding Prospects
LinkClump is a very handy tool to find prospects, it's basically a manual scraper, click here to find it.
A Google extension that allows you to copy all the URL's from a page.
What you can do is go to Google.com, enter a random search, click Settings -> Search Settings and under Safe Search Filters you'll find a slidebar where you can select the number of results per page.
To prevent triggering Google's captchas you want to set it to max 30 results per page.
You can now collect a list of keywords to use to scrape and personally I aim for approx 1500 URL's, in other words 50 unique keywords.
Where to find these keywords?
You can get them from Google Search Console, or from Ahrefs, or you can use Google's Related Searches at the bottom of the page.
Obviously take one that's as unique as possible so that you don't end up with the same search results each time you do this.

An Alternative Way
You're still at Google, find an authority site that's solely active in your niche.
Head over to Ahrefs and download their backlink profile.
But before you do that make sure to apply some filters so we enter Backlinko.com in Ahrefs:
Click on backlinks in the left sidebar.
Click One Link per Domain.
Select Dofollow from the Linktype drop-down menu.
Under platform select Blogs.
Language I prefer English.
Traffic from 5 to max
And we are left with 803 potential link candidates.
5 visitors per month that visits that page sounds like very little but it's not site traffic it's only that specific page, if we don't do this we end up with a list of 90,000+ sites and you don't really want to go through that many.
At least not for now.
I made a blue border around the steps we just took for easy of recognizement, now you just have to click Export on the right.
After export click Start Export and only the first 1000 rows to save some time.
Now I open the Excel file and remove a whole bunch of colums that I have no use for and stick with:
Domain Rating
Referring page URL
Link URL
Link anchor
Type
Each of these colums has a purpose to trim down the list further.
Domain rating – I don't want to reach out to sites with no authority.
Referring page URL – to weed out forums and scraper sites.
Link URL – when sorting on this it's also helpful to remove links going to the /wp-content/ folder.
Link anchor – same purpose basically, some anchors are just a dot.
Type – again easy to filter our image links from scraper sites.
Backlinko probably uses a CDN (content delivery network) as no scraper sites there so we remove that column.

I did find one link to the /wp-content/ folder but it comes from a solid prospect so we leave that.
Time to remove that column as well, when sorting on anchors there's nothing bad to find either so now we can filter on DR instead.
Now I remove 59 results that have a DR below 10, as we're looking for some solid links here, and I remove the links that are above DR80 because the chance of them linking to us is rather slim and we're down to 653 sites from our 803 prospects.
Now you can save those 80 or so prospects that are DR80+ and connect with them on social media first, build relationships, engage on their posts and who knows you do might land a link from one of them at some point.
Filtering Prospects Further
The export function doesn't provide us with any information whether a site receives organic traffic.
Personally at our database we stick to at least 1000+ traffic (as measured by Ahrefs), though during custom outreach I stick to a minimum of 500 visitors per month.
The only way to do this is by using Ahrefs batch analyzer and loading max 200 sites at a time.
Instead of looking at page traffic we look at site traffic so we're going to trim the URL's to their root using this tool.
When you scrape results from Google you want to go an extra step by removing duplicate URL's but because we selected the option at Ahrefs of one link per domain we can skip that test.
There are many online tools to remove duplicate lines so step one would still be to trim to root and then you can remove the duplicate lines over here: https://www.textfixer.com/tools/remove-duplicate-lines.php
Back to Ahrefs Batch Analyzer
You can find that here: https://ahrefs.com/batch-analysis
Just enter up to 200 URL's in the input field, and hit Analyse, wait a few seconds and hit Export.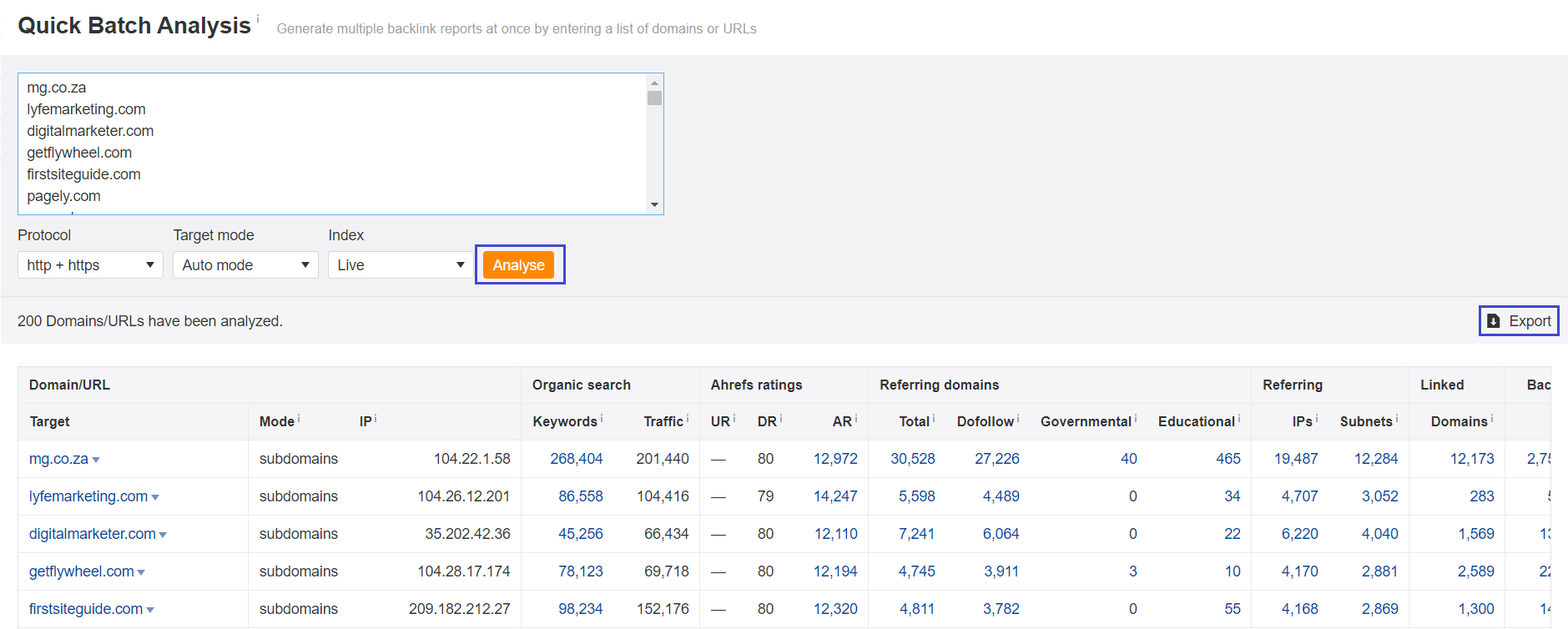 As we are left with 653 sites we need to do this four times and after that we can sort it on traffic and remove the sites with the lowest traffic.
This is a very effective way to weed out PBN's (Private Blog Networks) as you don't want links from them.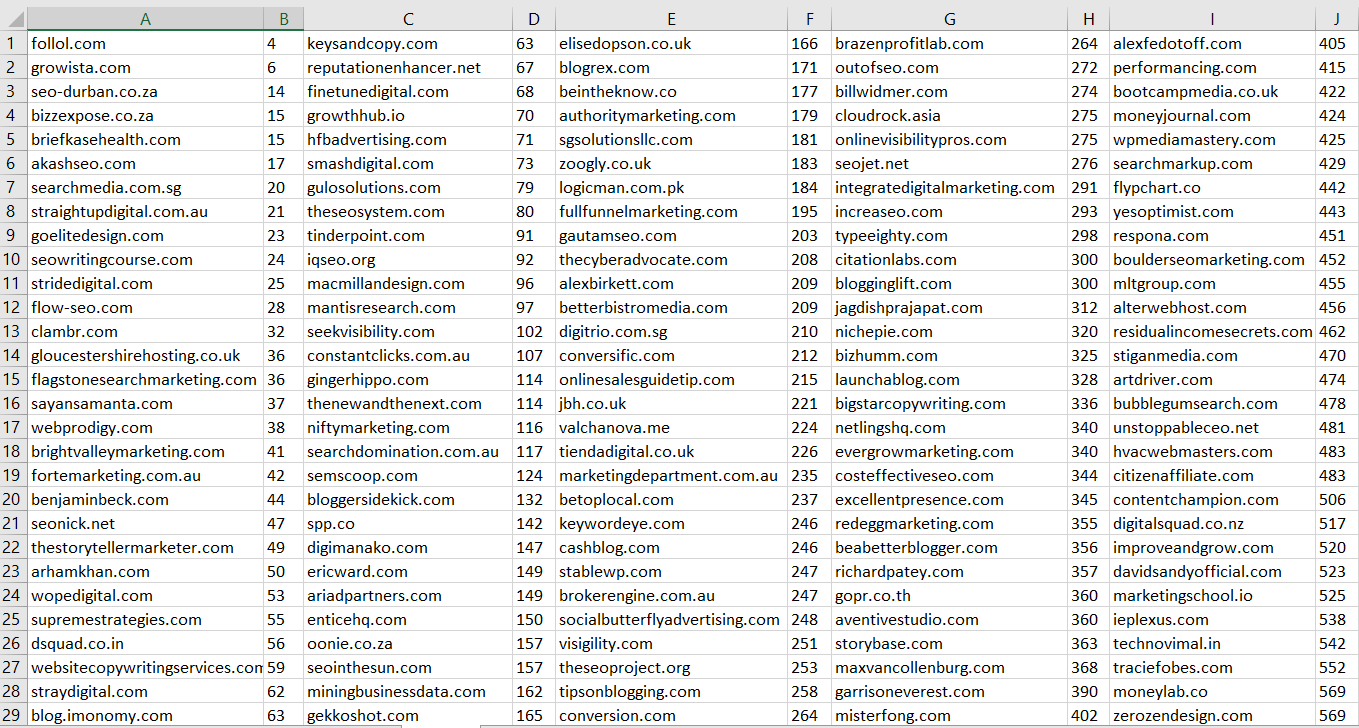 I'm definitely not sayying that these are bad sites perse, many of them are legit but it does weed out a lot of sites you definitely don't want links from and now we are left with 515 sites that we do want links from. I put them in another list.
This reverse engineering of your competitor would probably take around 10-20 minutes once you get the hang of it and as most of them are blog posts there is a reasonable chance you can land a link on some of these sites.
Step 2: Collecting Email Addresses
Hop over to Hunter.io, (quick warning it's not free), login to your dashboard.
Click on Bulks from the main navigation and than Bulk Domain Search, and new bulk.
Enter a name for your list, type of input Domain Names, enter your list of root domains or select a CSV file.
Next you can select how many email addresses you want to find per domain and the type: Personal or General or a mix and hit Upload.
All the data will now appear under Leads in the main navigation.
Step 3: Verifying Email Addresses
Export all the emails from your leads list as a CSV file.
Upload it at the Bulk Email Verifier and hit upload again.
Do keep in mind that everything that you do requires credits but when you upload a list of domains and you select 1 email address per domain Hunter will automatically estimate the delivery rate of each email address so in theory you can skip this step and only take the addresses with a 90%+ certainty.
If you do decide to verify the email addresses you can later access it in Leads again and start an email campaign.
Step 4: Send Out Those Emails
Go to Campaigns, click New Campaign.
From here on everything speaks for it self but in short:
Select the email address you want to send from.
Select a template if you made one.
Enter a subject line.
Enter the body of your email.
Add a follow-up or multiple.
Select after how many days you want to follow up.
And you can track the email opens.
When done you click Next and select your audience, eg your list from the Leads section, a CSV file or manually.
Obviously there are also placeholders for a number of things like first name or website.
During the last step after you click Next again you can verify your details and hit Launch and the emails get send.
Step 5: Using G-Suite
For the best results I highly recommend that you set up a G-suite account (not free either) but it gives you the best chance to end up in people's Gmail boxes.
You can also use a self-hosted domain but in that case you want to make sure you warm it up and increase the numbers of emails you send every few days.
I haven't found that option in Hunter.io yet but it might be there and otherwise it's probably on top of their to-do list.
In Conclusion
I hope you found this guide handy, personally it took me a while to figure everything out but once you've done it a few times it becomes standard procedure.
Obviously there are a million roads to Rome but for me this is the most efficient way to do things.
If you lack the time you can always visit our portal and select from over a thousand publishing opportunities.