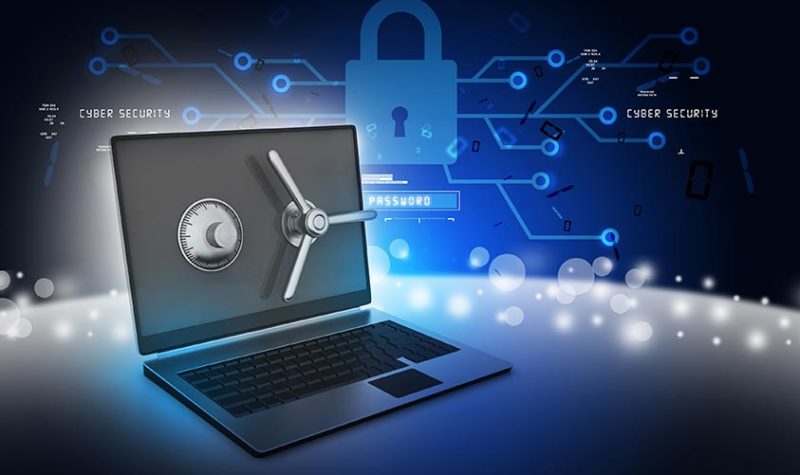 As you may already know, PBN's have proven to improve rankings but a lot of things can go wrong when you utilize this strategy the wrong way so let's dive into this a little deeper (if you are already familiar with PBN's you can skip the first few paragraphs), starting with:
What is a PBN?
PBN stands for private blog network. In other words a network of domains that expired (eg the previous owner let it expire cause he had no need for it anymore).
The power comes from the links that point at the domain that expired. Some people say Google may reset the value of a domain but that's not the case. If that was the case we wouldn't spend thousands of dollars building our networks.
What Kind of Domains are we Talking About here?
Domains from festivals that take place once a year, something like Kwaku2016.com, or domains from businesses that went bankrupt, NGO's that cease to exist, artists that found a new hobby or direction and so on.
Expired vs Dropped vs Deleted
There are three types of statuses for domains that haven't been renewed, let me explain this in a little more detail:
Expiring domains, these domains haven't really expired yet and end up on auctions at sites like GoDaddy and Dynadot. Here you can bid on them in an attempt to win the domain, prices are rather steep for high value domains but then again, the strongest domains can be found here.
Dropped domains, these domains passed the so-called redemption period (the period in which the previous owner can get his domain back) in case he accidentally let it expire (forgot to pay for example). As these domains haven't been bid on on auctions they are generally weaker. However, not every domain registrar holds auctions so strong domains can be found here, though they do show up as dropped, eg expired. To catch this domain you can use so-called drop catching services like Namejet or Snapnames (they are faster at re-registering the domain when it becomes available).
Deleted domains, either no one bid on it on auctions or there was no auction in the first place, and no one made an attempt to back order the domain, now the domain is available for everyone to register. Needless to say, these are the weakest domains as no one took the effort to grab it while it was hot, so apparently this domain wasn't very hot. To filter through lists of deleted/expired domains without spending a dime you can visit expireddomains.net, which offers quite a few filters.
So as you can see, the strongest domains can be found at auctions and you pay a heavy toll for that as there's a lot of competition out there. Deleted domains are obviously the cheapest, you only pay a $10-$12 registration fee but they are also the weakest so you get what you pay for.
Finding a Solid Domain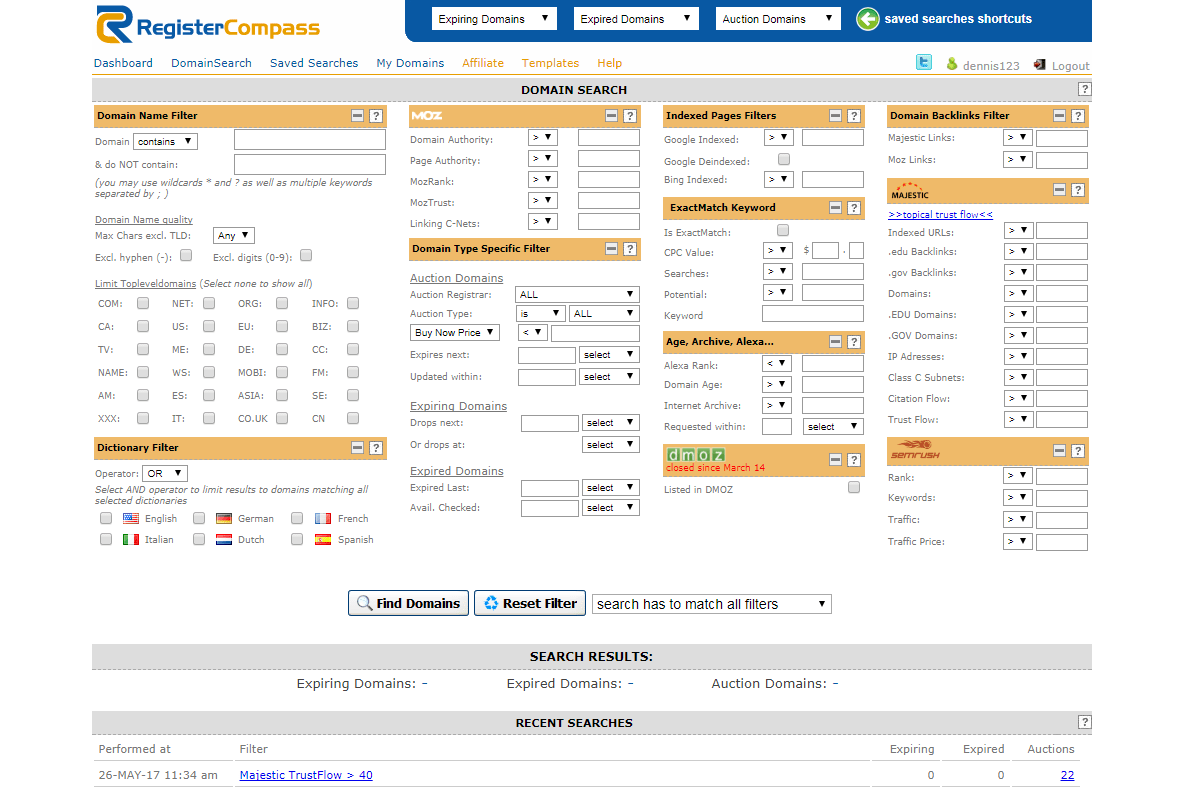 Tens of thousands, if not hundreds of thousands of domains expire each month, you can't analyze all those domains but luckily there are some services out there that can help you with this.
They offer a wide range of filters to filter it down to a workable list. Two of the most popular services are Register Compass and DomCop.
Note: Though Register Compass looks kind of outdated I find it way more accurate than Domcop in terms of metrics and such.
Try to filter down to a workable list, everyone has their own preferences but you can use metrics like the age of the domain, the amount of domains linking to it, third party metric like TF/CF (Majestic), Domain Rank and Page Rank (Ahrefs), and lastly DA/PA (Moz) plus dozens of other filters that you can apply.
Once you have a workable list you must analyze the domains one by one
The first thing I look at is the anchor profile (to make sure there are no spammy anchors like Viagra, Louis Vutton, gambling, porn or any other signs of obscure niches).
I also make sure the domain isn't over optimized, if the site belonged to a plumber you don't want to see a ton of commercial anchor text like:
Plumber San Diego
plumber in San Diego
San Diego plumbers
And so on as it's highly likely this domain already has a penalty, which doesn't benefit you in the long-term. I prefer to use either Majestic or Ahrefs for this.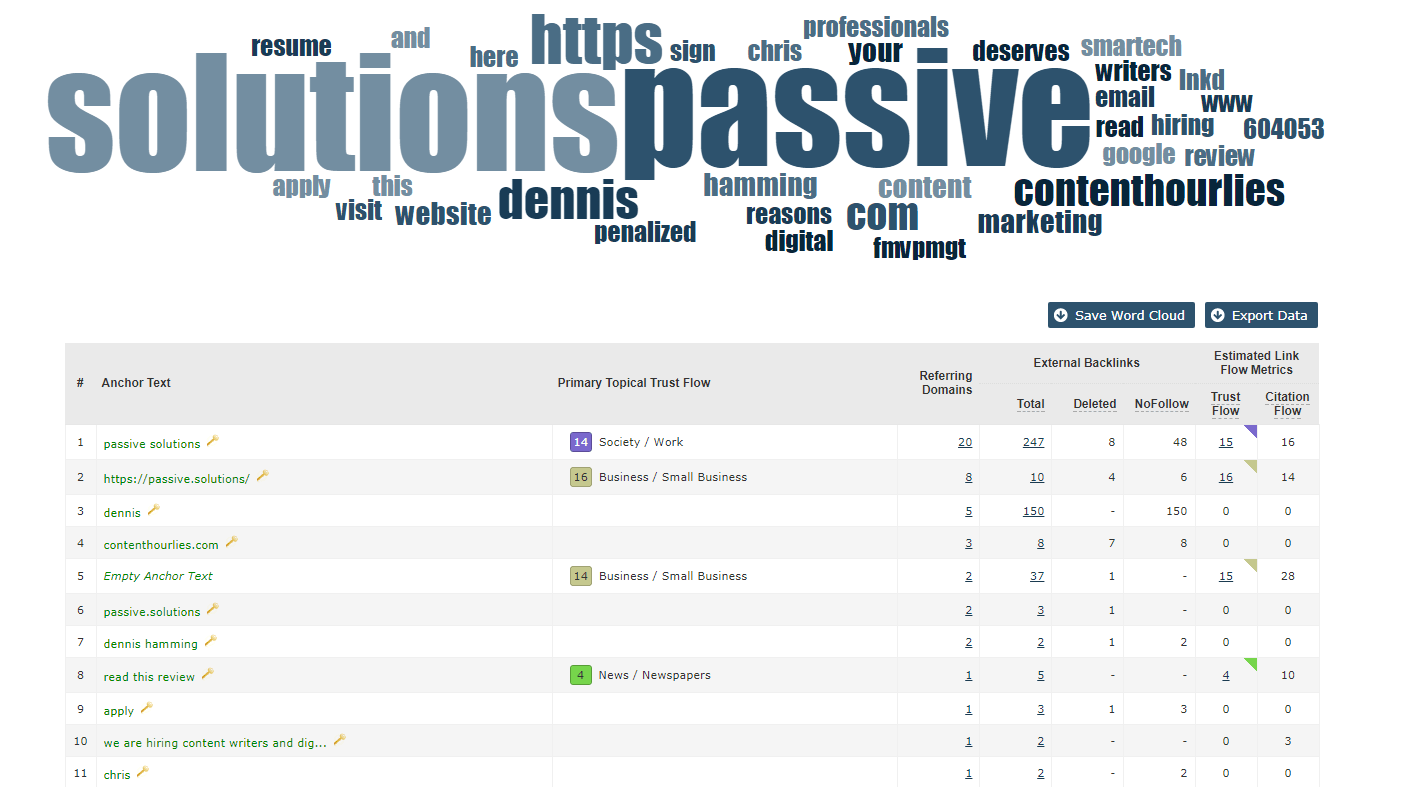 In case you wonder why there are so many 'passive solutions' anchors, this was our previous site that we redirected to our new platform!
If you don't want to spend any money you can also use Moz's Site Explorer, though their database is significantly smaller then the above mentioned ones.
A penalized domain (due to anchor text over optimization) might still boost your rankings but the site will never rank for anything and it would be nice if your site was able to rank for at least a few longtail keywords right?
Next I look up the domain in archive.org, to see if it hasn't been used by another SEO already. They also call this The Wayback Machine, you can look up the history of the domain to see what happened with it over the years.
If you see it changed drastically and it looks like it was part of a private blog network before I would let it go and look for something else.
If all is good you can try to win the domain, back-order it, or register it in case it's already available, both the above mentioned services allow you to filter on that as well.
Setting up a Private Blog Network
Let's start with hosting
Once you 'won' a domain on the auction or catched one through a back-order service, or simply re-registered a domain that was already available you need to host it and build a website on it.
Many people prefer to use hosts that offer a lot of unique IP addresses, I prefer to call them semi-SEO hosts. The traditional SEO hosting companies rented a server with a few dozen or hundred IP addresses in the same range, eg:
192.168.20.35
192.168.32.27
192.168.25.14
This looks highly unnatural as you can see and Google is known for going after SEO hosts.
The so-called semi-SEO hosts cover their tracks a little better so if you're on a budget I would recommend hosts like EBN, BulkBuyHosting or GoPBN.
Personally I prefer to use regular shared hosting plans like Hostgator, Bluehost, Siteground and so on and currently I own 80 plans in total (from 70+ different hosting companies that is, eg I have 2 accounts at Namecheap, 2 accounts at Hostgator, 2 accounts at Hawkhost and a few more at the same large registrars but the vast majority is 100% unique).
It's not easy to manage that many hosts but it's the safest option out there, eg zero footprints for Google to detect.
Next comes building the website
You have two options here:
Option #1: You either repurpose the domain completely, the downside of this is that it passes less link juice but you can fill it in however you like.
Option #2: You try to stick to the old theme and find a unique angle to insert your link in one of the articles in a natural way. The downside of option two is that you sometimes don't have an awful lot of choice, eg if the domain used to be about a street performer and you want to link it to your plumber website it can get a little tough.
The easiest way to build a site is by installing WordPress, then uploading a few articles and make it look a bit nice, I would recommend at least 3000 words of decent content and spend some time on it to make it look like a real site.
An easy way to accomplish this is by adding some social sharing buttons, banners, images, videos and what ever rich media you can think of.
Once in a while someone from Google will pass by and manually review your site, so if your site looks reasonable they will let it go and move on to the next one.
If you're site looks fake they do take a closer look and may deindex your site, rendering it completely useless cause when a site isn't indexed in Google it doesn't have any ability to pass link juice anymore, and that's what you bought it for in the first place.
Covering your tracks
As your network grows it's easy to leave footprints, so it's important to use unique IP's / hosting plans for each of your sites.
It's also important that you use different themes and preferably different plugins as well. One other thing that many tend to forget is updating their email address in Cpanel (hosting dashboard) as this information is publicly available.
Testing Your Domain
Testing your new acquired PBN domain is a bit controversial as sometimes Google decides to drop your rankings first and improve them later so an important factor in setting up a solid test that provides some real answers is time!
When I test a domain I do it like this:
Step 1: Find a keyword with volume, anywhere between 50-300 searches per month.
Step 2: Search your keyword in Google and go to page three.
Step 3: Select five sites ranking at page three and add them to your rank tracker.
Okay let's pause here for a second
Rankings tend to fluctuate, the futher you go down the pages in Google the more heavy the fluctuations are so you want to make sure the rankings are stable for that page. So after you've added them to your rank tracker give it at least ten days and then view the ranking graph and take the most stable one.
Step 4: Hyperlink the keyword from step one and link it to the most stable page.
Step 5: The longer you wait the more reliable your test result will be.
That's it, now if the rankings of that page drop don't discard your domain so easily, Google sometimes does this on purpose if it thinks you are trying to manipulate them so it's better to wait, you can also analyze the backlink profile of the page to make sure there are no other links at play that might interferre with your test results.
In case there are no improvements or there is a decline that lasts longer than 60 days it's wise to setup another test. Ranking with PBN sites isn't always that straight forward, one PBN site may hurt the rankings of another site but at the same time it can provide huge benefits for another site.
I've seen this happening over and over during my own tests.
Personally I see PBN's as a numbers game, we don't have the time to wait 60 days after every link we place and the majority of your links will improve your rankings, the only exception is when you use exact or partial match anchor texts. In this case you should take a closer look at how your rankings behave after placing such link.
Quality of Content
I understand you want to save costs but you shouldn't go too cheap with the quality of the content that you publish on the domain / site.
Google is getting smarter by the day and poor quality content drastically increaeses the chance of Google deindexing your domain, on auto-pilot!
I've seen this first-hand as I own two networks myself, my basic network that I use for tiered link building purposes and my premium network from which I link directly to my money site.
The basic network deals with a 1% deindex rate per month. That means I lose on average 2 domains per month as my network is 200 sites large.
The deindex rate for my premium network is 0%.
I haven't lost any domains out of 120 in total in 2017, which is exceptional. The main reasons behind these are the quality of the content, the quality of the hosting, and the visual design of the sites. It all looks good, feels good and thus Google accepts it as being real sites and thus leaves it alone.
Masking OBL Footprints
OBL stands for outbound links, eg the links from your PBN site to another site (your money site or a client site).
Most affiliate marketers have multiple websites so they often want to link from the same network to several money sites and this comes with a huge risk.
For me as a service provider the risk is rather low as I link out to dozens of different clients. Some people buy 1 link, other buy 10 and again others buy 60+ links.
Cause of this there is a natural random pattern of linking out to different sites, but even then you have to be careful so what we prefer to do is not just link to our own money site or client site from each post we publish.
We link to an additional 2-5 sites per post, just to be on the safe side.
Sure we loose some link juice this way but it's better than taking the risk of loosing your whole network as Google is quite good at detecting footprints.
Over the years I've seen many networks come and go, especially the networks that offer 40 links for $40/month with a max OBL of 10.
Eg they post the same 10 clients on the same 40 sites leaving one hell of a footprint and Google detects that automatically and will deindex your network rather fast (most of these networks don't last longer than six months).
Blocking Backlink Crawling Services
Many people block external backlink crawling services like Ahrefs, Majestic, Moz and hundreds of others.
I do that as well on my basic network but I don't do this on my Premium network. The reason being that the premium network looks good enough to survive a manual review, while the basic network looks kind of basic so I don't think these sites would last if someone from Google came by.
In addition to that you can easily leave footprints by blocking all crawlers except for Google so my advice is to set up solid websites that will survive a review and forget about blocking crawlers.
Preserving Link Juice
When you buy a domain there's a good chance a lot of the backlinks don't point at the homepage but at inner pages instead.
The best practice is to identify pages with strong backlinks pointing at them and manually redirecting them to your homepage, or in case you stick to the old topic you can rebuilt those pages so that there's no need to redirect anything.
In the past everyone used plugins like Link Juice Keeper and/or Backlink Saver.
What these plugins do is redirect all the previous pages to your homepage, Google has said it treats this as soft 404 errors and ignores the link juice coming from such pages.
Sure we can't believe everything blindly but it doesn't take that much to redirect a few pages manually in your .htaccess file.
Here is a detailed guide how to setup a 301 redirect using your .htacess file!
The Risk of Utilizing PBN's to Rank
Using a private blog network isn't entirely risk-free, there is always the chance someone reports you or that Google will find your network on it's own.
This is why it's so important to keep quality in mind when setting one up. When you leave zero footprints the chance is perhaps less then 0.1% that Google will ever find out.
The most important factor for me is the quality of the content
That's why I use my level two writers for my Basic network and my level three writers for my Premium network and the results speak for itself.
I do like to add that we used to use level one writers for the basic network and the content was 100% unique but honestly it was awful, lately we upped our game to only use level two writers for this network and I expect the deindexations to decline heavily.
You can use the same writers I use, simply click on Buyer and register, we'll even give you 20% bonus credits on your first deposit.
That's it for Now
Over time I will update this post with more details but this should at least provide you with a basic start and how to avoid the most obvious footprints.
If this all sounds like to much work you can also buy links at our basic or premium network yourself, just create an account, fill in the order form once you're logged in (Under Order->Premium links in the main menu when you are logged in) and we take care of it.
It's obviously most ideal to have your very own private network but the costs associated with setting that up can be rather steep and it requires quite a bit of time to do it the proper way.
Ps: If you have any questions please leave a comment or join our SEO Tips & Strategies group on Facebook and I'm glad to help you out and will update this guide accordingly!