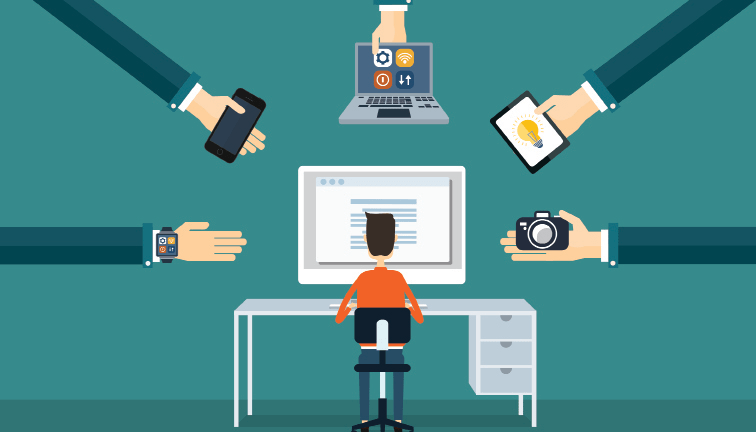 Albert Einstein once said "I fear the day that technology will surpass our human interaction. The world will have a generation of idiots".
It is a fact that we do have a large amount of technology overload creeping into every corner of our life. But I wonder, is this positive or negative and for whom?
No offense to Albert Einstein, undoubtedly a genius but he did not live in our world. If Einstein had lived today, he would have used our technology and maybe he would even have come up with more dramatic inventions and theories.
With such amazing technology, right at our fingertips, are we using the true potential of our technology for our own good or are we so overloaded that we don't know where to start? Einstein may be right about technology possibly surpassing human interaction, but technology can have great advantages too.
In this post, I will break down some key elements to help those of us that feel their lives are overloaded with extreme amounts of technology.
Let us first explore some elements of technology that effect our world
There is no doubt that technology has made our modern world more convenient. Yet, our smart phones seem to be permanently tethered to our hands and we treat it like a newborn puppy who needs constant love and attention. We feed our smart phones loads of electricity and fear when our battery power becomes weak.
It is amazing that any question you want to know in the world can be answered within minutes. I was born in 1979, so learning involved books and more effort. When I was younger and I had a question, my father would reach for our well-worn encyclopedias and page through them for the answer.
Technology may make our lives easier but there is so much of it everywhere
It seems like an impossible game of catch up when we are bombarded with the newest, latest, and greatest devices that we must have for reasons unknown. Many of us don't even bat an eyelash over shelling out hundreds of dollars for technology that we don't need, but we must have it. Making technology work for you and your company can seem overwhelming, but can be simplified when you think of your company's needs.
Let's start at a simple point and think about what are your technology needs for your company?
First look at your company and what it is at the bare bone basics. Does your company solely offer information through a blog, or are you selling a product or service? Understanding these differences can help you figure out the best technology for your company.
Let's consider some of the technologies out there that you can utilize. We are going to look at some of the hardware first then the software and applications. There are tablets, and iPads, Smartphones, laptops, and desktop computers.
Plus, let us not forget the thousands of accessories that can be added to these devices. Some companies even have added touchscreens to laptops, and tablets and laptop built together. These technologies can be quite complex and difficult for a novice user. I personally own an iPad 2, Samsung Galaxy S6 smartphone, a newer HP envy touchscreen laptop, and an LG tablet specifically used by my two-year-old son.
For business needs, particularly somebody that has an online store, should invest in a decent laptop with Windows 10. Laptops can differ so much between company to company but you must put in a lot of time and effort when deciding which one is best for you.
Personally, I feel having a desktop computer can be a waste of money unless you are using it as a backup for your home office. I think the best technology right now for somebody looking to start out or increase their business is a laptop with touchscreen.
I believe that tablets that claim to replace laptops are still not technologically advanced enough to truly replace a laptop. Do not fear refurbish technology, many come with warranties and save lots of money. My last 3 computers were refurbished and they all have been great.
Be sure to consider the size of a surface Pro or iPad when you think of typing on such a little keyboard. It could be extremely difficult to type for long periods of time on such a small surface area. Any tablet that you buy you must have the ability to put a strong Otter Box on it. Otter Box is the only type of case I use on any device because they're extremely rugged and affordably priced.
Now that we have explored some of your hardware choices, let's look at software and apps that can make your life easier
Save all your info in one place with an online storage company and app. Personally I use Sugar Sync and Dropbox.  Sugar Sync is compatible with any device and offers 250 GB of storage for $10.  However, I like Dropbox better because it easily links any devices together, and sending photos, videos, and documents is so easy. Dropbox costs only $12.50-month for unlimited storage and well worth the investment.
Next, let us look at more software and apps.
Dragin Mobile Assistant & Dictation Software
I am a big fan of mobile assisting software. I highly recommend the Dragon mobile assistant app. I use this wonderful app to keep me organized. If you have a decent microphone on your device, Dragon is crystal-clear in its dictation. Dragon can help you send emails, set up reminders, search the Internet, and help completely organize your day.
In addition to the Dragon mobile assistant, I love Dragons' dictation software. I utilized this program a lot in college and the software is simple to use. It allowed me to simply talk for an entire paper instead of having to type it. Having a voice to text dictation program is very nice when your ideas flow more naturally when you speak versus type. Be sure to get a high-quality headset with your Dragon software. I have a wireless one and it is perfect.
Natural Reader
One of my favorite apps is called Natural reader which converts text to speech. I love this app just as much as my Dragon software in college. Dragon would allow me to talk to it and the program would write my paper. Natural reader allows the user to highlight any text and it will read it back.
Sometimes, we read so much online our eyes start to get strained, so having Natural reader can help soften this. I use Natural reader on my laptop and I found that it works on word documents, PDFs, and on many websites as well. It will also work for any document that I put in my iBook's file on my iPad 2.
Invoice & Estimate To Go, Mint and DocuSign
Financial software is very helpful for your business or your own personal budget. In the past, I used Microsoft excel but I have found using apps is far more technologically friendly and organized.
Invoice and estimate to go is a phenomenal app that will help you with business estimates and keep your budget in line. It can also help you keep track of orders by sorting it on customer, month, quarter, and year.
For my own personal finances I prefer Mint. This application is great at keeping track of spending, it comes with pie charts, individualize budgets, and offers a transaction overview.
Another great app for business owners is DocuSign. This neat little app allows you and your employees to safely and confidentially sign contacts and tax forms.
Hosting for your website
There are two web hosts that I personally use and recommend. The first is Siteground, their simple way to setup a WordPress site is great for beginners. Their customer service is second to none and they have friendly and knowledgeable staff willing to help you at any time.
An even more user-friendly hosting company is Ehost.com. This hosting company is great for a first-time website builder. They are considerably low priced and offer easy drag and drop site builder tools.
In conclusion
I truly hope you enjoyed reading my post and hope that it have helped you deal with the overload of technology these days. There are so many ways to make technology a part of your life and take your stress away. Now, embrace your technological life and go ahead and experiment. You will find your own path to success.