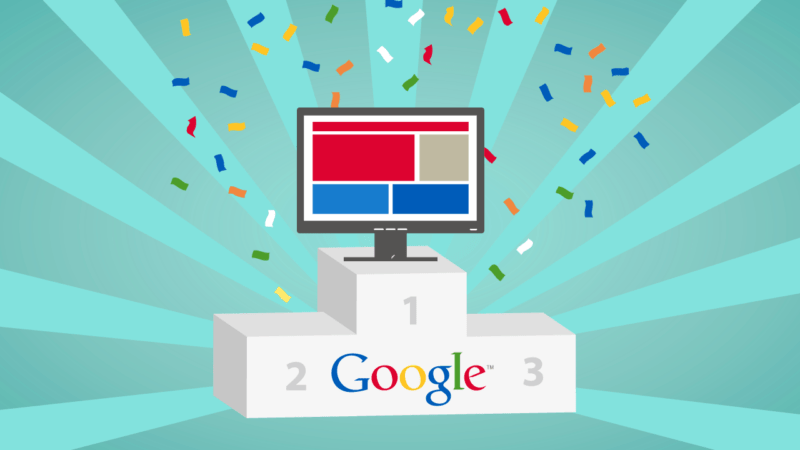 First things first, Google doesn't rank websites, it ranks pages, and the number one ranking factor for pages are backlinks, so let's dive right into it.
Step 1: Optimizing your site for Google
Last week I wrote this On-page SEO guide, which covers everything from start till finish.
In addition you need to categorize your posts properly to make it easier for Google to know what your site is about.
It's also wise to link from one relevant post to the other, the link juice from pages with backlinks coming in will help improve the rankings of your other pages.
If you don't have time to interlink all your posts and pages you can use this Related Post Plugins instead.
But how can you improve your rankings further?
Step 2: Establishing authority through brand awareness
Google wants to know that the website they are dealing with has a real person behind it.
First you want to sign up at Google Webmasters and Google Analytics, to keep track of everything.
The next step involves creating a presence on the most popular social media platforms:
Now that you have accounts with the most popular social media channels, you can start building your presence by posting at least twice a week on one or more of the above platforms. This will show Google that you are in it for real.
Step 3: Adding structured markup to your site
The best way to make Google aware that these accounts belong to you is by adding structured markup to the header of your site.
If you use WordPress your header is located in the /wp-content/themes/your-theme/ folder, and is named header.php.
Here is the code that you have to add (obviously replace the links with your own social links):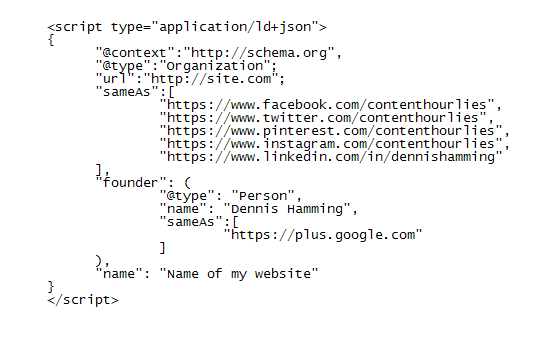 I also put this code in a text file that you can download here for ease of use.
Step 4: Building more backlinks to your site
You won't get very far with just a handful of links, a lot more than that is needed to improve your page ranking.
Right now, we are simply establishing your presence.
There´s a list of sites here that you might want to create an account on, and the more sites you´re registered with the stronger your internet presence will be:
https://www.blogspot.com/
https://www.tumblr.com/
https://www.wordpress.com/
https://www.youtube.com/
https://www.weebly.com/
https://www.diigo.com/
https://www.getpocket.com/
https://www.reddit.com/
https://drive.google.com/
https://www.medium.com/
https://www.about.me/
https://www.stumbleupon.com/
https://www.instapaper.com/
https://www.disqus.com/
https://www.paper.li/
https://www.crunchbase.com/
https://en.gravatar.com/
https://www.squidoo.com/
https://www.yola.com/
The best thing to do with these is to create an account, fill out your (author) profile and, if possible, publish content that´s relevant to your niche.
Your first two dozen links can all be built in the same week. You should also add these to your structured markup code.
The most important thing is that you interlink these properties with each other. Don't just link directly back to your site. Instead, link your accounts together to build a web of authority and topical relevance.
We´ll return to this in more detail later on.
Step 5: Citations for local businesses
If you have a real business with a physical address there are a lot of sites to you can get links from, let me name just a few:
https://www.bingplaces.com/
https://www.hotfrog.com/
https://www.yahoo.com/
https://www.yellowpages.com/
https://www.bizjournals.com/
https://www.bbb.org/
https://www.mapquest.com/
https://www.yelp.com/
https://www.tripadvisor.com/
https://www.foursquare.com/
https://www.yellowpages.com/
https://www.angieslist.com/
https://www.citysearch.com/
https://www.superpages.com/
https://www.yellowbook.com/
https://www.opentable.com/
https://www.merchantcircle.com/
https://www.manta.com/
https://www.priceline.com/
https://www.urbanspoon.com/
https://www.whitepages.com/
https://www.yell.com/
https://www.insiderpages.com/
https://www.patch.com/
https://www.switchboard.com/
That's another two dozen links up for the grabs, bringing your total link count to around fifty, which is not a bad start.
Step 6: Add social signals to the mix
Now it's time to be a little more active on Facebook, Twitter, Instagram, or LinkedIn.
You can do this by joining communities (groups) on Facebook, follow people on Twitter, connect with people on LinkedIn, and so forth.
The only downside is that it's a lot of work, and if you have a business to run, you won't have time to manage your social media effectively.
I, personally, would launch Facebook ads to grow my page. Once a visitor turns up on my site, it´s likely they will also check out my Twitter account or my Youtube channel. As everything is inter-linked the traffic goes back and forth in a closed loop.
This is how you establish authority to improve your rankings in Google.
Step 7: Building authoritive links
All good and well but building links at public sites, and adding social signals won't rank you at the top of Google.
However, there are multiple ways to find strong links so let me list a few:
We also offer a number of link building services ourselves:
These are all legit ways to build links, and these are the type of links you need to rank.
Do you need help?
If you want to talk about this feel free to fill out the contact form, you can also email me directly at support@serptrust.io of course or join our Facebook group!