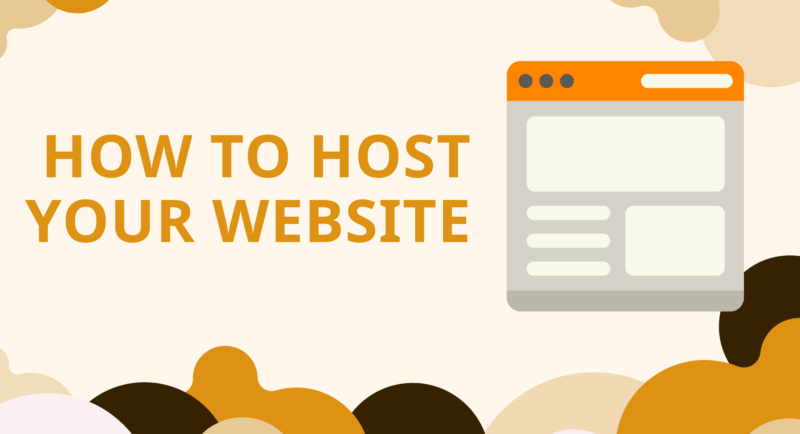 Always wanted to host your own website, but no idea where to get started? In this guide, we do our best to clarify this in as much detail as possible. Before we get started let me explain a few things, a website requires two things:
A domain name, so that people can enter it in their browser.
Web hosting, this is where the actual website itself is stored.
Step 1 – Registering a domain name
There are many places where you can register a domain name with any extension that you like. This can be .com, .org, .net or any of the new extensions like .website, .reviews, .club. In our example, we are going to use Namecheap, simply because they are affordable. So let's register a domain name:
Step 1: Register an account at Namecheap by following this link and filling out the details.
Step 2: Check your email and confirm your account creation by clicking the link in the email.
Step 3: Head over to this page to see if your domain is available for purchase.
Below you can see the result of me searching for my own name and as you can see it comes up with a few suggestions.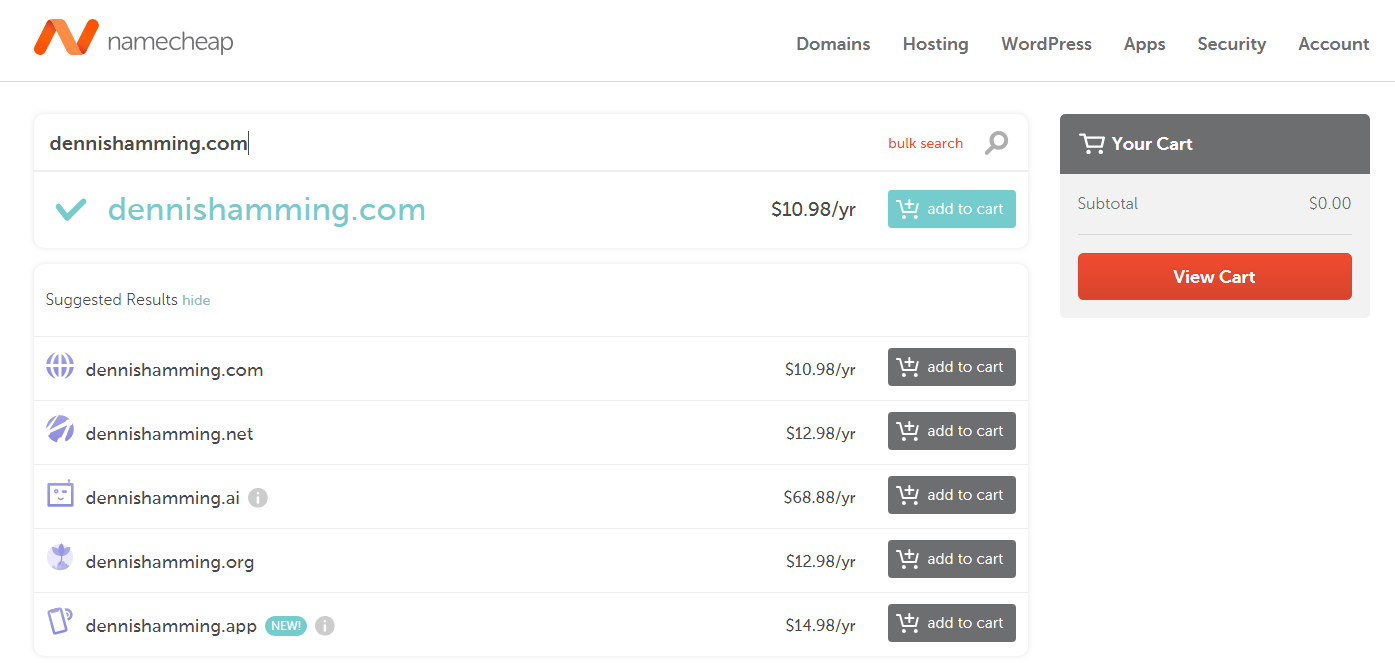 All that's left to do at this point is clicking the 'add to cart' button and going through the check-out process and paying for it. You are now in possession of your very own domain name for your new to build website.
Step 2 – Finding a web host
Because I own a large network of sites, I have accounts with nearly every provider out there. Thanks to that I can recommend Host Papa as one of the more reliable web hosting companies. Their basic shared hosting starts at $3.95/month so you won't break the bank there. Usually, they charge $7.99/month but they are having a 51% discount at the moment and I'm not entirely sure how long that will last so have at it.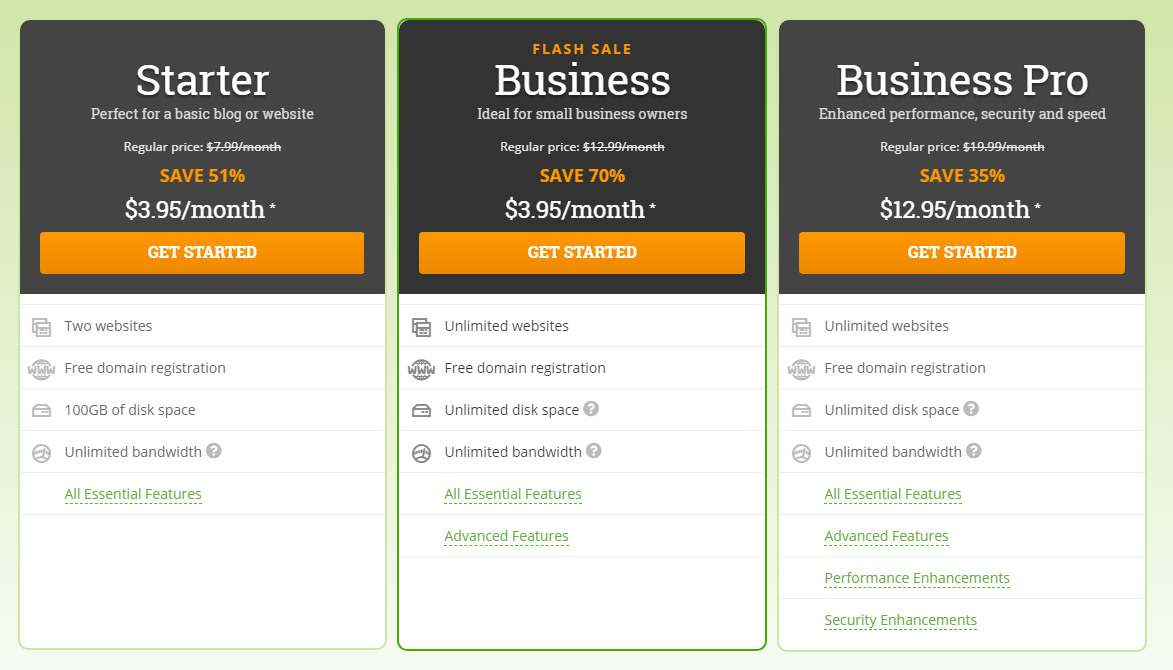 As you can see their business plan costs the same as the starter plan but covers unlimited websites to host without further limitations so that should be an easy choice. After purchasing the hosting for your website you will receive an email with your login details. Make sure to save this email as you might need it again in the future.
Step 3 – Setting up nameservers
Now that you own a domain name and hosting it's time to connect the dots. Perhaps better said, point your domain at the web hosting by setting up name servers. Log back into your Namecheap account and click on Domain List in the left sidebar. You will see your domain on top of the list so click the Manage (button on the right side), as this will take you to the following screen: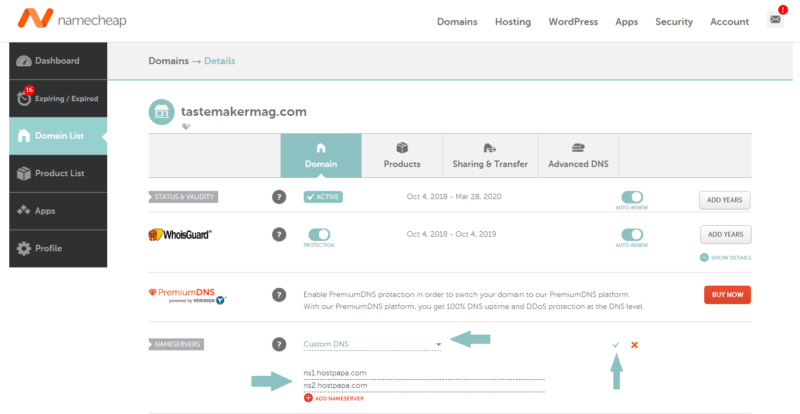 I added some blue arrows to this image to make it as easy as possible for you.
First, make sure to select Custom DNS from the drop down menu (arrow pointing to the left).
Then enter the nameservers in both fields, ns1.hostpapa.com and ns2.hostpapa.com.
Click the tiny check mark to confirm your changes.
You are set, the nameservers of your domain name are now pointing at your web hosting.
Step 4 – Adding your domain to your hosting
When you purchased your web hosting they asked you to enter a domain name. If you want to build a website on the domain name you entered during the purchase you can skip this step. However, if you want to add another domain this step is mandatory. Login to your host by visiting http://yourdomainname.com/cpanel Enter the username and password that you received in your welcome email and click login. Locate the "Domains" section once you are logged in to your Cpanel, and click on 'Addon Domains'.
This will take you to the following screen where you can simply copy/paste your domain name in the first field. When you move your mouse out of that field and click anywhere on the page it will automatically fill out the other two fields. All that is left to do is clicking on the 'Add Domain' button and you are all set.
We are almost there so let's recoup what we've accomplished so far:
You registered a domain name.
You purchased web hosting.
You pointed the domain name at your web host.
You added the domain to your web host.
The internet now knows how to find your website. However, when you enter yourdomainname.com into Google you will most likely see a placeholder page. Although everything is ready to go you still don't have an actual website so that will be our last step.
Step 5 – Installing WordPress
WordPress is a content management system (CMS) and with that the most used one, and the most user-friendly one that ever existed. This is why I'm going to show you how to install WordPress so that you can start building your actual site. WordPress allows you to select a theme and offers an easy way to add posts to your site so that you can share it with the rest of the world. If you've been following each step of this guide you are still on the Addon Domains page in your Cpanel, so click Home in the top left corner, then scroll down towards the bottom of the home page and locate the Apps Installer section as you can see below: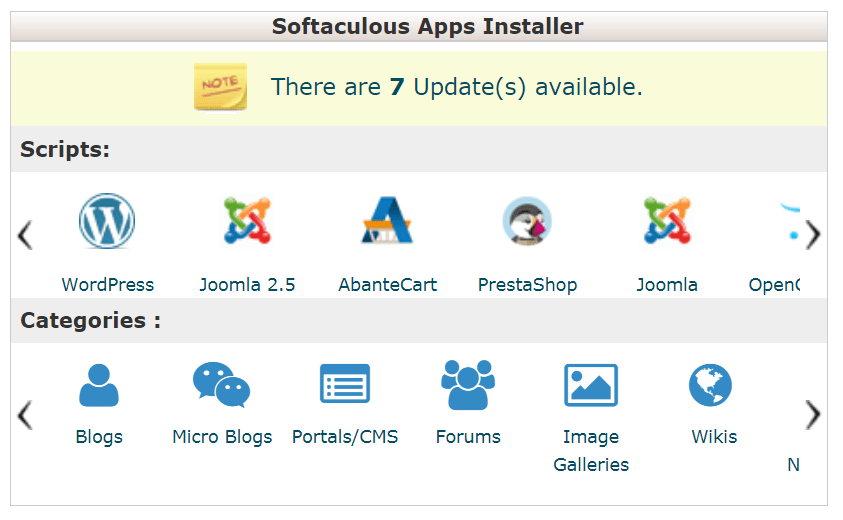 As you can see, WordPress is the first on the list because it's the most commonly used one and the easiest to work with so go ahead and click on it. On the next page click the blue 'Install' or 'Install Now' button. Select your domain name from the drop-down list, and fill out the other fields where I put a green arrow in front of it. Instead of coming up with a password yourself you can click on the golden key symbol and it will automatically generate a password for you, just make sure to store it in a safe place for later use.
Now you can scroll all the way to the bottom of that page and leave all the settings as default, there is no need to change any of it. Finally, click the blue 'Install' button and give the system a minute to install everything. Congratulations on your new website! You can now access it by entering your domain name in the address bar of your browser and your website will load. Your website will look rather empty of course so now it's time to fill it with posts, menus, pages, and anything else you like to share. In our next post, we will teach you the basics of WordPress so stay tuned.