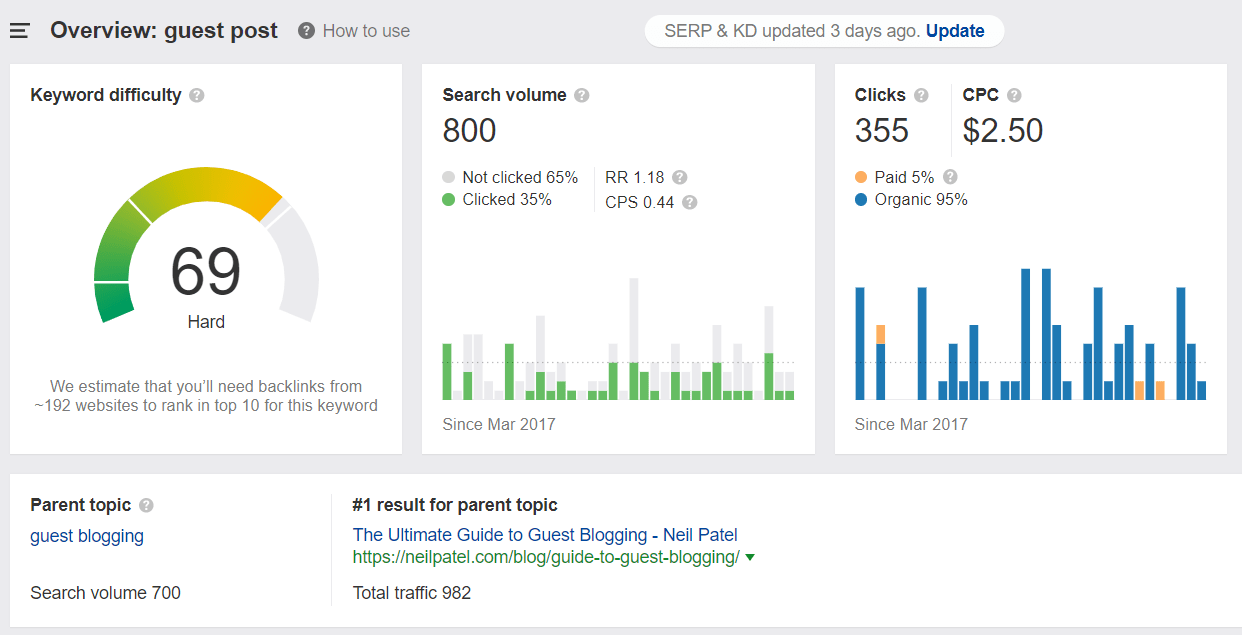 Or if you're not a noob you can also continue reading as this is a unique approach that few people use!
Let's dive straight in.
Pick a Niche
This can be anything (competitive) like:
Weight loss pills
Payday loans
CBD oil
Amazon products
Dating / sex / gambling
You name it.
Let's Go with CBD Oil
If you type in CBD oil in Google it will probably be a little hard to find some suitable keywords so we don't take the parent keyword but hop over to Ahrefs keyword explorer and type in CBD oil to get some sub topics.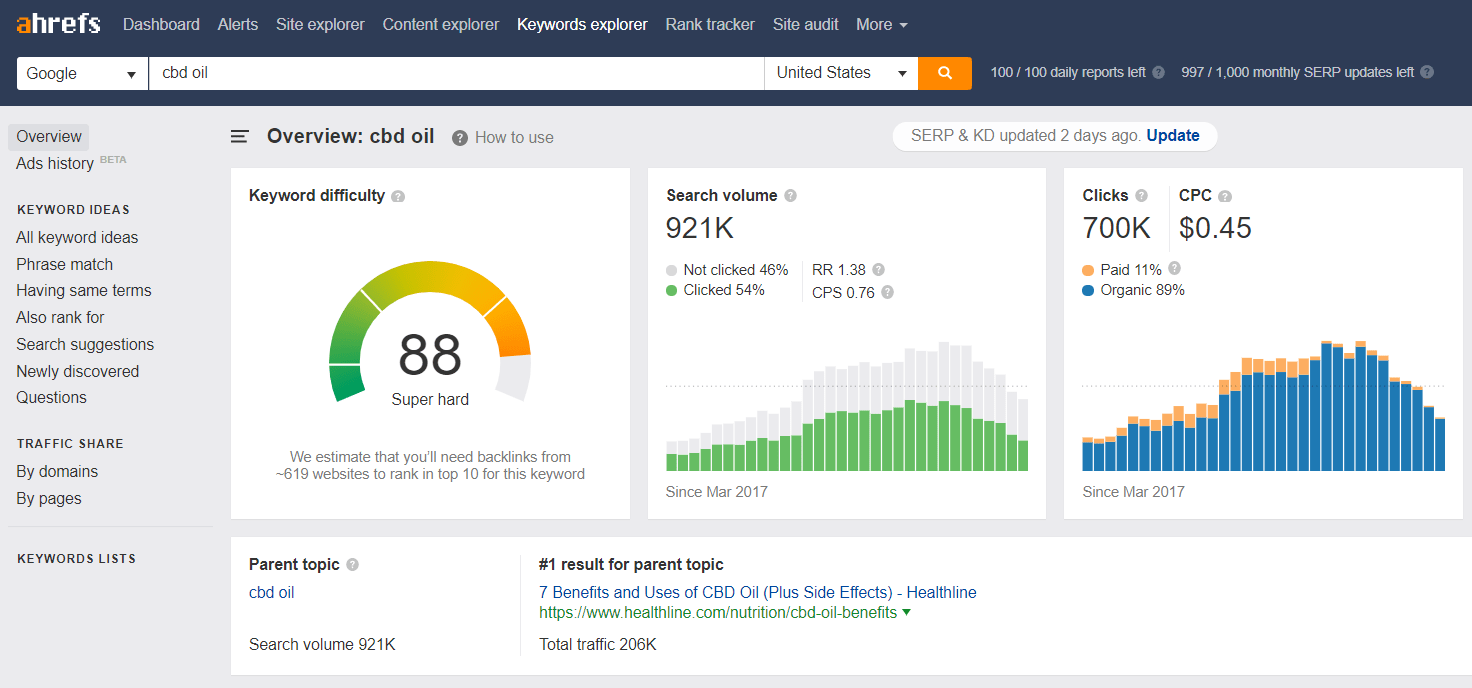 This is a very tough to rank for keyword as you can see above so we scroll down a bit and find similar terms like:
CBD oil benefits, 59,000 searches
best CBD oil, 57,000 searches
CBD oil near me, 55,000 searches
CBD oil for dogs, 53,000 (I mean seriously?!?)
Now that's a keyword few would have thought of but it would be easy to find in tools and everyone does use the same or similar tools obviously but let's see what we can get with that.
Hop Over to Google
Personally when I use Google I set the search results to 30 per page instead of the usual 10, especially for this technique that's rather useful. You can do this by going to Settings -> Search settings.
Which will bring you to the next page where you can move the slider to 30.
I found 30 to be the perfect number to do some serious scraping using Link Clump without triggerring captcha's non-stop.

In case you are not familiar with Link Clump, it's an extension for Google Chrome which allows you to drag your mouse over the search results and copy all of the URL's to your clipboard in one batch.
Firefox has their own version named Snap Links Plus so you can use that if that's your preferred browser.
Scraping the First 30 Results
So we place our mouse on top of the page and drag it all the way down and the result is this:
https://www.tuck.com/best-cbd-oil-dogs/
https://www.akc.org/expert-advice/health/cbd-oil-dogs/
https://www.honestpaws.com/products/cbd-oil-for-dogs
https://www.honestpaws.com/products/cbd-oil-for-dogs#L1
https://www.handicappedpets.com/blog/cbd-oil-for-improved-pet-mobility/
https://www.tuck.com/best-cbd-oil-dogs/
https://market.dogsnaturallymagazine.com/products/cbd-oil-for-dogs
https://market.dogsnaturallymagazine.com/products/cbd-oil-for-dogs#Q2
https://www.preventivevet.com/dogs/what-to-know-if-you-want-to-give-your-dog-cbd-cannabidiol
https://www.preventivevet.com/dogs/how-to-help-an-older-dog-with-arthritis-and-other-mobility-issues
https://purekana.com/collections/pets/
https://www.huffpost.com/entry/cbd-oil-dogs-pros-cons_l_5d77b7e6e4b0645135754d14
https://www.petmd.com/dog/general-health/cannabis-oil-dogs-everything-you-need-know
https://www.kfvs12.com/2019/11/25/should-dogs-take-cbd-oil/
https://pix11.com/2019/11/25/cbd-oil-treats-pets-ailments/
https://sitstay.com/blogs/good-dog-blog/cbd-for-dogs
https://www.caninejournal.com/cbd-oil-for-dogs/
https://www.leafly.com/news/strains-products/vet-talks-cbd-oil-dogs
https://www.yahoo.com/lifestyle/cbd-oil-dogs-benefits-150119779.html
https://cannabissupplementsforpets.com/
https://petreleaf.com/
https://www.ravereviews.org/cbd/best-cbd-for-dogs/
https://www.cnet.com/news/is-cbd-safe-for-pets/
http://www.americanveterinarian.com/news/review-site-names-best-cbd-oils-for-pets
https://www.certapet.com/cbd-oil-for-dogs/
https://www.allthebestpetcare.com/pet-nutrition/cbd-for-dogs-anxiety/
https://cannanine.com/the-ultimate-guide-to-cbd-hemp-oil-for-dogs/
https://www.allthebestpetcare.com/pet-nutrition/cbd-dose-dog-cat/
https://www.nbcnews.com/better/lifestyle/what-you-need-know-about-cbd-oil-your-pets-ncna968476
https://senseicbdoil.com/cbd-oil-for-dogs
https://www.consumerreports.org/cbd/should-you-try-cbd-for-your-pet/
https://www.forbes.com/sites/laurenterry/2018/09/27/the-right-way-to-introduce-cbd-to-your-pets/
https://www.cbdoil.org/cbd-oil-for-dogs/
Trim Results to Its Root Domain
There are multiple tools that can do this, Scrapebox is one of them or you can follow this link for a browser-based tool.
The reason we trim the URL's to the root domain is because rankings never happen thanks to a single page, the domain authority plays a huge role when it comes to ranking so the perhaps 10 links pointing at that Forbes page would never do the trick for a single page site.
What we want to know is how many small sites are ranking for this pretty massive keyword.
Back to Ahrefs Batch Analyzer
We enter the list of root domains and there are 28 left (Ahrefs automatically removes duplicates so you don't have to worry about that).

I had to zoom out a bit to get all the results on my browser so the next screenshot won't be very useful.
But don't worry, next there will be a zoomed in version based on what we are looking for.

The most important metrics I look at now are DR, RD, and traffic so the first thing I do is sort it on traffic from low to high which gives the following results:
Now we are getting somewhere!
We sort based on traffic because we scraped the first 30 results and we all know hardly anyone goes beyond the first page in Google.
So cannanine.com with only 894 traffic we can remove from our list.
The next 3 results are interesting, ranging from DR47-DR51, solid amounts of traffic and 400-500 referring domains.
The most interesting result for me is cannabissupplementsforpets.com as it's most relevant to our query.
Still Too Competitive?
When you take a commercial query with 53,000 searches/month in Google it obviously won't be dead easy to rank for.
We can find much easier to rank for keywords but then we drastically have to drop our expectations regarding volume.
Let's take a look at this cannabis for pets site to see what else they rank for but before we do that let's check their organic search traffic history, purely out of curiosity.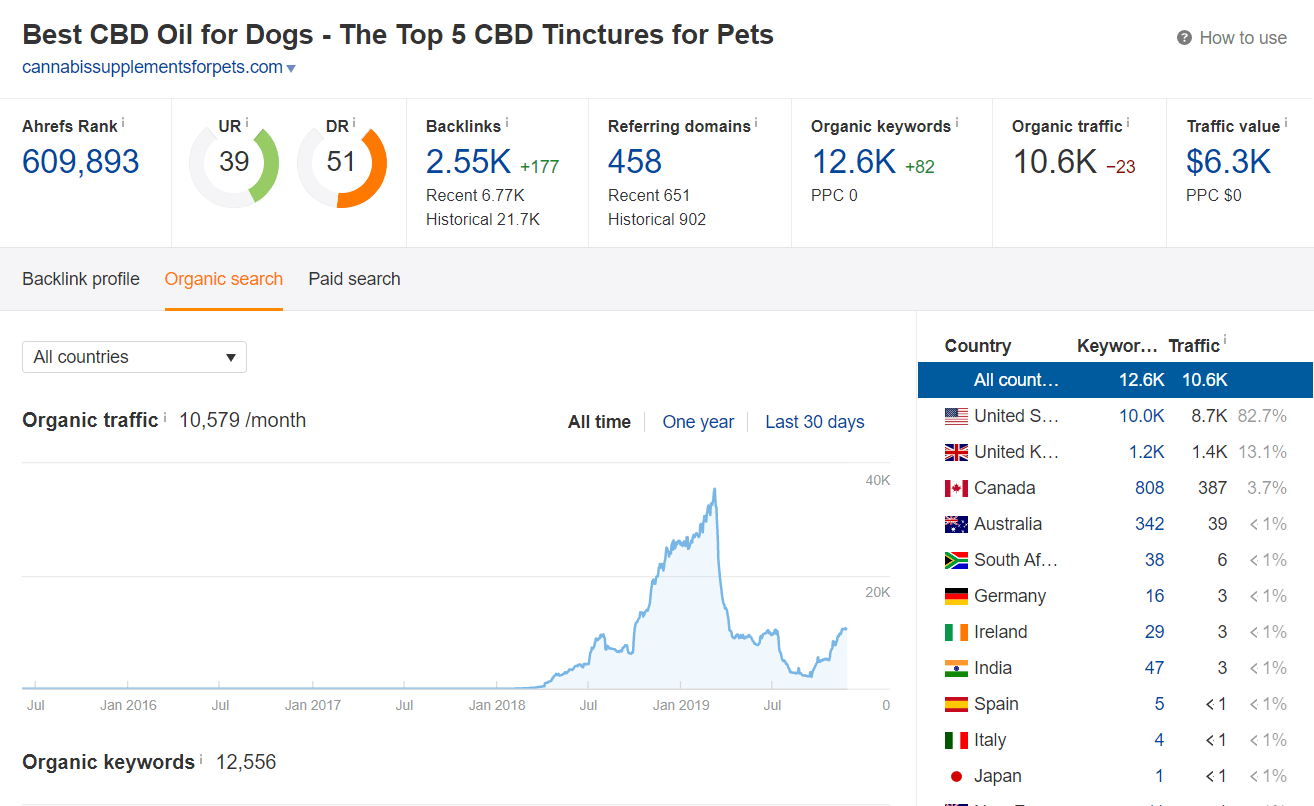 As you can see, they probably spammed their way to the top, got heavily penalized for that, did a ton of disavowing (and removal of links) as you can see the historical referring domain count stands at 902 and currently they have 458 RD.
They probably learned their lesson, got their penalty lifted and started to build relevant backlinks like guest posts, insertions, resource pages and so forth and their traffic started to increase again.
Some Lower Competitive Keywords
Without even going into the deeper report we see:
CBD dog treats, 10,000 searches
CBD oil for cats, 7,000 searches
Holistapet, 2,400 searches
What you can do now is repeat the same process and if I were to get into the CBD niche I would do the same for Holistapet which is clearly a brand name.
So we go back to Ahrefs keyword explorer and enter Holistapet and here we are:
Would you have found this keyword if you didn't go through this process using Ahrefs Keyword Explorer alone?
Probably not, unless you dig through all this:

And just because Ahrefs says a keyword difficulty of 3, it doesn't mean that it is dead easy to rank for.
The only way to find that out is by repeating the cycle we earlier went through for CBD oil.
Summing The Cycle Up Real Quick
Finding a keyword
Scraping the first 30 results in Google
Trimming them to their root
Running them through Ahrefs batch analysis tool
Sorting on traffic
So I just did this real quick for our new found keyword and here are the results:

Two sites with 1000+ organic traffic (Ahrefs under rates it), they are more likely to receive 150-200 visitors/day in reality.
More importantly, they rank with only a few dozen do-follow links!!!
Now you can enter petcbdcommunity.com in Ahrefs to analyze their backlinks and see what they are actually ranking for and simply replicate their success.
At the same time, you just broke into one of the most competitive niches of the moment, starting with a keyword with a difficulty of 88 and ending up with keywords like the one we just found.
The proof is in the pudding here, 5 sites with probably a hundred visitors/day and none have more than 50 referring domains.
Statistics don't lie as this is not a keyword tool anymore, this is straight from Google itself.
Have fun with it!
Ps: Look at how fast they ranked and all that with only 51 articles (yes I counted them for you), and it's really not that hard to see what they've been doing as they are literally targetting low volume keywords like best cbd oil for dogs with [insert disease].
Now this is how you truly find golden keywords you would've never thought of and it only took 1 hour of my time which includes writing this posts, making screenshots, explaining the whole process so without that it would've taken me 10-15 minutes max.
If you like to read more of these posts please create an account on this site and I automatically add you to my mailing list.
I won't spam you though, I mostly send out 2 emails per month and you can also browse our guest post inventory (we pride ourselves in being the most affordable provider) to get the links you need to move the needle.
Lastly, join our group on Facebook where I regularly publish posts like these and reveal the hidden gold.