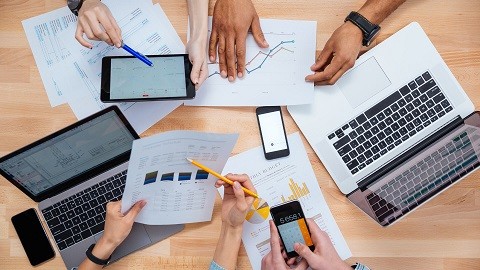 Measuring your content marketing efforts has gone beyond keeping a count of the clicks to a website. Today, key performance indicators (KPIs) relating to digital marketing have evolved with powerful tools such as Omniture, Google Analytics, and exclusive systems developed within firms. Web analytics has transformed the way the success of your online marketing efforts is measured and tracked.
So here's something we all should believe in: a good marketing pro must be well aware of the digital marketing analytical tools and reporting tools that enhance their website's conversion rates and customer engagement to survive in the industry.
When it's about measuring the ROI on content marketing that is specifically focused on SEO and B2B industries, marketers are not well versed in measuring the performance of different types of content. Take for instance the case of publication of page turn which is commonly used to generate leads online. Digital marketers limit themselves to keeping track of the quantity of 'downloads.' Is there anything else that a marketer can carry out to comprehend how such content impacts the viewer?
You should remember that the techniques used in measuring the success of a site or a typical customer acquisition funnel do not necessarily work for assessing content marketing.
Below is a detailed guide on the KPIs you need to consider while measuring the performance of your eBooks, eNewsletters, white papers, and blogs. The content marketing KPIs have been categorized under three categories: Reach, Engagement, and Sentiment.
Reach
1. Unique Visits
Unique Visits represent the number of people who have looked through your content during a particular time period such as a 30-day cookie window. You can use this measure as a standard for comparing trends over time as well as with various types of digital content.
But bear in mind that all unique visits are not identical. When someone visits a white paper and a blog, both mean different things since the value derived is different. A unique visit to a white paper tends to be more valuable than a unique visit to a blog.
2. Geography
It is crucial that you track the locations the users can access your content from. This way, you can identify how to allocate your resources and budget according to the needs of the audience. One such tool is Google Analytics that offers page-level details of such geographic information. Marketers can use this information for optimizing geographical locations that are critical to their business and ultimately profits.
3. Mobile Readership
Although the number of unique visitors to the site is known, it is also important to find out the devices through which the content is accessed from – mobile, desktop, or laptop. Once you know how people are reading your content, you can adapt the content to different devices and offer better functionality and user-friendly design.
Considered a big thing these days, you can use Responsive Design for your future publications. According to current content consumption research, 45% of people access content materials through their mobile devices daily.
Engagement
4. Time Spent/ Bounce Rates
An important measure of reader engagement is the bounce rate. A higher bounce rate implies that your content did not deliver on the readers' expectations and you lost your audience.
The time spent by your audience with the content is also another important statistic that helps you analyze the value the content is delivering.
Both these statistics are very useful indicators of how engaging and valuable your content appears to your audience. For instance, you have 10,000 views on your 25-page white paper and the average time spent by the reader happens to be 10 seconds. This tells a lot about the engagement level of the content.
5. Heat Maps And Click Patterns
In order to measure how the audience is engaged with your content pages, you can rely on a number of tools at your disposal. CrazyEgg is one such tool that allows you to form heat maps that show specifics such as which sections of a page are receiving the most views.
Even Google Analytics has features that offer in-page analytics to track click patterns. Uberflip also offers Zoom Points for this purpose. These tools help you understand content that is relevant to your audience, thereby catering to content and design optimization to improve readership and engagement.
6. Page Views
Page views are also an important KPI that shows which pages have been viewed by the visitors. A higher number of page views and unique visits are considered to be a positive sign as it mostly shows that people do return to view your website.
Won't it be great if you also found out how much publication was actually read or looked over by the audience? So whether the majority of your audience didn't get further past eight pages or skipped page number three altogether, all these answers will help you understand how to develop content for your audience in the future.
Sentiment
7. Comments
With the boom in social media, everything online becomes the subject of conversation. So, if your content becomes a part of social media, make comments, and let it be shared across social media platforms. The customers are the best advocates of a product or service, so if they are commenting, make sure to provide them feedback and engage with them. With social media, not only can you enjoy the interaction with your audience but also increased exposure of your online content.
If your content receives negative feedback, you can assess pain points of your prospects and customers and respond positively. You can revamp your online publication to better suit customer expectations and needs.
8. Sharing
For greater reach, you can include social sharing features such as widgets in your online content. The power of social sharing can offer a high number of content views and greater ROI. The AddThis widget allows content to easily be shared across many popular social networks.
The ultimate objective of content creation is to enhance your reach of your brand by generating greater leads. These useful marketing KPIs will aid you in getting more out of your online content!